Vivo V5s: For Selfie-Lovers And Beyond | TechTree.com
Vivo V5s: For Selfie-Lovers And Beyond
The phone carries the design with inspiration directly taken from Apple iPhone, including the icons.
Rating

4
/5
15th Jun 2017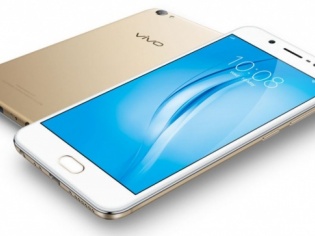 Pros:
Comes with a good battery life, large screen, and pretty good selfie camera.
Cons:
Runs on OS based on Android Marshmallow and camera color shade slightly differs from the natural colors.
The new Vivo V5s carries the tagline 'Perfect Selfie' on its box. True to its predecessors, the Vivo V5 and the Vivo V5 Plus, this new smartphone targets the 'selfie-generation' as several other brands have been doing off late. Our review attempts to find out if there is more to this phone than just that.
Therefore, when we got the phone in our hands, the first attempt was to check whether the Vivo V5s is a worthy successor to the affordable Vivo V5 and the Vivo V5 Plus. For starters, the new smartphone looks identical to its immediate predecessor the Vivo V5 Plus. The price point is what comes to attention upfront, given that the Vivo V5s sells a good 5K cheaper without actually downgrading much of the specs.
Highlights:
Battery life - One charge and it kept running till eternity. We used it for over 15 hours before a recharge.
Large screen - Despite a 5.5-inch screen, the phone is quite easy to use and the thumb traverses all corners quite easily.
Heating - Despite running a couple of movies on the phone, it did not heat up.
Improvements Needed:
Solidity - Despite the metal finish, the Vivo V5s doesn't appear as sturdy as the Vivo V5 Plus.
Overall looks - One can easily mistake the Vivo V5s with the Vivo V5 Plus but for the additional front-facing camera.
OS - Continues to run on an operating system based on the Android Marshmallow when the Nougat is around.
Design-wise it is quite attractive resembling the Apple iPhone, except the physical home button. Even the icons are a straight takeaway from those that Apple's iPhone has made popular in recent times. Of course, the metal finish is similar to the earlier variant while antenna lines around the top and bottom edges are a distinct change this time round. Overall, the feel that we got while holding the Vivo V5s was that of a lighter version of its immediate predecessor.
With the design being inspired by the iPhone, does this camera really stand out like that of an iPhone itself? Or does the 20 MP moon light camera prove nothing in front of an iPhone's FaceTime HD camera? You can watch the video review to know more.
TAGS: Vivo V5s Review