Asus Zenfone 3 Review | TechTree.com
Asus Zenfone 3 Review
A promising handset let down by obtrusive UI and average battery life.
Rating

3.5
/5
18th Oct 2016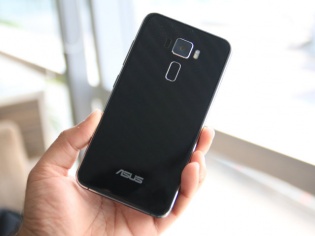 Pros:
Good build quality; Bright IPS panel; Good low-light camera.
Cons:
Uninspiring design; Obtrusive UI; Average battery life.
Asus Zenfone 3
Price: Rs 20,000
Taiwanese brand Asus has been known for laptops and PCs for years. When it entered the smartphone market a couple of years back, it did a great job in delivering well-made phones at a budget price. Especially, the Zenfone 5 was one of the best smartphones under Rs 10,000 in 2014. However, being a PC manufacturer Asus is absolutely terrible at naming its smartphone. Much like the laptop variants, the Taiwanese company adds confusing detail to its smartphone names. Take for instance, the Zenfone 2 ZE551ML, ZE550KL, and God-I-forgot. Things haven't changed in the latest iteration either, as the Zenfone 3 has ZE552KL and ZE520KL versions. To make things simple, I identify the review unit as the Zenfone 3 with 3 GB RAM and 32 GB internal storage. Now let us check whether it is worth a Rs 10,000 price tag.

Design
In terms of design-language, the Zenfone 3 is a complete departure from company's previous handsets. The good news is that the phone chooses metal and glass construction over the plastic built of its predecessors. The bad news is the lack of design flair. The Zenfone 3 looks like a wannabe iPhone from the front and a knock-off Galaxy S7 at the back. The handset has iPhone-esque rounded corners. Its metal frame is sandwiched between the screen and glass plate at the back. Obviously, the battery is not user-replaceable.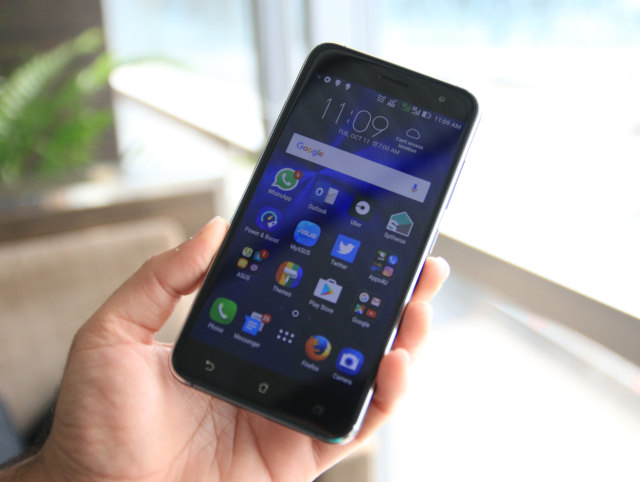 While it doesn't impress with the design, the build quality is great. The handset has a protruding camera assembly, which means the phone does not sit flush on the table. The lens has a metal rim to protect it against the scratches. Below that is a fingerprint sensor. For today's standards, the Zenfone 3 is quite a compact device. It is not ideal for one-handed use though, as the notification panel and top two rows of the icons are not in a thumb's reach.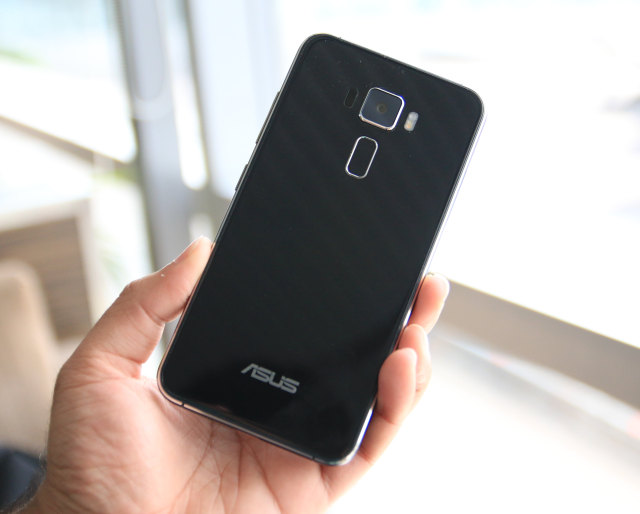 Screen
The Zenfone 3 sports a 5.2-inch Full HD IPS screen. The screen is sharp. For those interested in numbers, it has pixel density of around 424 PPI. The colour reproduction is quite good. Especially it handles blacks much better than most LCD panels. The screen is impressively bright, which leads to excellent sunlight legibility. Moreover, it comes with plenty of customisation settings such as manual control over colour temperature, bluelight filter, and dedicated sliders for Hue and Saturation.
User Experience
The phone runs Android 6.0.1 with Asus' ZenUI on top. The Taiwanese manufacturer's customisation brings a lot of features. You get multiple homescreens to place your app shortcuts and clunky widgets. You can create app folder to group similar software. Then, there's a good old app drawer. A long press on a homescreen gives you options to edit icon size, change scroll effect, choose a wallpaper, change or edit themes and more.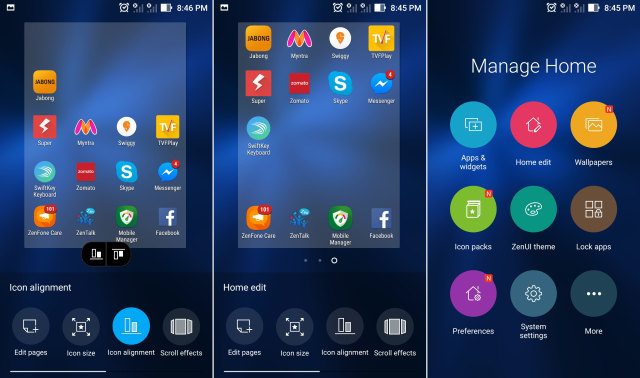 Asus has also thrown-in plenty of tools such as power saver, smart unlock, and booster. The last one clears the RAM, while smart unlock is a stupid feature that automatically unlocks the phone at trusted places or nearby bluetooth enabled trusted devices such as your smartwatch. The battery power saver feature takes the cake for being the most annoying app of this lot. By default, it goes on killing background apps and processes to save the battery. Why on Earth would Asus let this "smart" app circus take control of a phone is beyond me. The brand needs to understand that however cool your new features are, you can't simply shove it down users' throat.
As far as the aesthetics are concerned, the colour scheme is garish. For instance, there's no colour coordination between the app drawer, settings menu, and notification panel. The icons come in all shapes and sizes. Even Asus' own app icons lack uniformity. The quick toggle buttons on the notification panel are an eyesore. If you think Samsung's TouchWiz looks bad, you have got to see the ZenUI.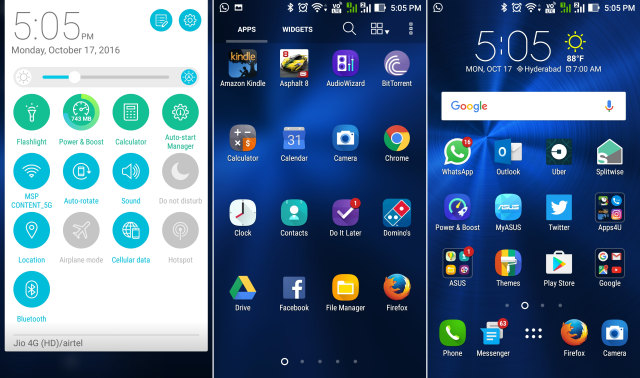 Performance
Asus' Android customisation needs a lot of polishing. On the bright side though, the software is quite smooth to navigate around. During normal usage, you are unlikely to notice any stutter or sluggishness. The Snapdragon 625 chipset pulls off good gaming performance too. Thanks to the Adreno 506 GPU and 3 GB RAM, Graphics intensive titles such as Asphalt 8 and Modern Combat 5 run well with a slight drop in frame-rate.
In terms of media playback, the Zenfone 3 handles most Full HD (1080p) videos without any issue. If you run into an unsupported file, we suggest you take the MXPlayer and VLC for a spin. The bundled earphones sound good and fit comfortably in ear. The downward firing speakers are loud enough for watching YouTube videos.
The handset is 4G LTE VoLTE compatible. You can use it on Reliance Jio network without needing any workaround. The second SIM slot is a hybrid type, so if you wish to use two SIM cards, you will have to let go of additional storage. I tested the phone's network coverage over Airtel 4G and Reliance Jio, and did not find any glaring issue apart from a few dropped calls on VoLTE, which is quite normal on the Jio network.
Camera
The Asus Zenfone 3 comes with a 16-megapixel rear camera. It has 4 axis OIS (optical Image Stabilisation) and swift laser auto focus mechanism. It brings plenty of features including GIF Animation, Miniature Mode, Slow Motion, Time Lapse, and real Time Beautification. The depth of field feature is quite neat. The manual mode offers plenty of DSLR-like camera settings including exposure, ISO, focus, and shutter speed.
The camera clicks good images in daylight. The amount of detail in these photographs is impressive. However, the images tend to be oversaturated. The Zenfone 3 does not disappoint in low-light either. Be warned though, you need steady hands to get best results in the low light conditions. Using slow shutter, you can even achieve light-writing effect.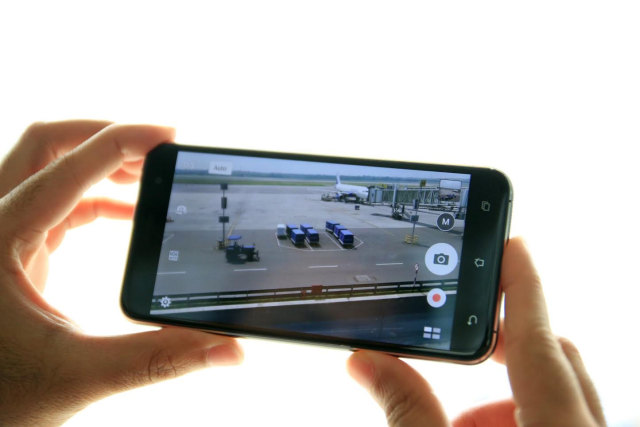 The phone sports an 8-megapixel camera, which captures plenty of detail. Moreover, it comes with Panorama Selfie Mode for group selfies. Moving onto video recording, the Zenfone records videos up to 4K at 30 fps.
Battery
The Zenfone 3 packs-in a 2500 mAh battery. With all the annoying battery save features turned off, the phone easily lasts over a day on a single charge. The phone does not support support fast charging. It takes around an hour and half to fully charge the battery from zero. Coming from the Redmi 3S Prime, the Zenfone 3's battery is underwhelming.
Verdict
The Zenfone 3 has a few aspects such as build quality, screen, and camera going for it. However, Asus' ZenUI software is quite intrusive and even the phone lacks a design flair. All things considered, the Zenfone3 isn't a bad phone. However, the Lenovo ZuK Z1 comes across as a much better handset, which is significantly cheaper. Moreover, you can get the much better Xiaomi Mi 5 for he same price.
Asus Zenfone 3 (3 GB RAM) specifications:
5.2-inch Full HD IPS (In Pane Switching) screen.
Snapdragon 625 chipset.
3 GB of RAM, 32 GB internal storage.
16-megapixel camera with OIS (Optical Image Stabilisaton).
8-megapixel front-facing snapper.
4G VoLTE support with secondary hybrid SIM/microSD card slot.
Wi-Fi, Bluetooth 4.2, and GPS.
Fingerprint sensor.
2500 mAh battery.
TAGS: Smartphones, Asus, ASUS Zenfone 3