Xiaomi Redmi 3S Prime Review: A New Benchmark For Budget Phones | TechTree.com
Xiaomi Redmi 3S Prime Review: A New Benchmark For Budget Phones
The Chinese brand's latest phone is hands-down the best in its category.
Rating

4.5
/5
20th Sep 2016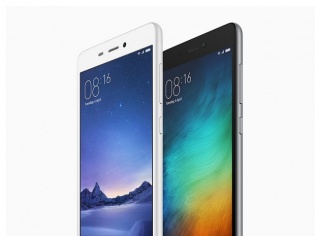 Pros:
Sleek metal body; Excellent battery life; HD IPS screen; Compact design; Great performance; Swift fingerprint recognition.
Cons:
Camera could have been better; Tedious buying process.

Xiaomi Redmi 3S Prime
Price: Rs 9000

India and China share a love-hate relationship. We despise our neighbouring country's policies, yet don't mind their sweatshops as long as that brings us truckload of dirt cheap smartphones. In fact, we love the Chinese phone manufacturers, and these brands don't let us down either. Especially, Xiaomi has been offering us killer phones at affordable prices. With challengers such as the Le Eco and Honor heating up the competition, things are getting even more exciting for the Indian consumers. With its latest Redmi 3S Prime, Xiaomi is trying to push the envelope on how feature-rich a budget smartphone can be. Let us find out if the company has succeeded in doing that:
Design
Xiaomi has showcased its design prowess time and again. With the Redmi 3S prime though, the company is playing it safe. For its latest handset, Xiaomi has recycled the Redmi Note 3 design. Much like how the Chinese company had scaled-up the same outline for the Mi Max. While the existing design is good, I would have loved to see something fresh.
The best about the Redmi 3S Prime is that it is truly handy. After using monstrosities such as the Nexus 6P and iPhone 6 Plus for months, I enjoy carrying around the Redmi 3S Prime. It can be operated with one hand and also fits in a pocket without any issue. Despite being affordable, the Redmi 3S Prime has sleek metal body, save for the plastic bands at top and bottom ends. You can say that it is a knight in metal armour, but with plastic helm and sabatons.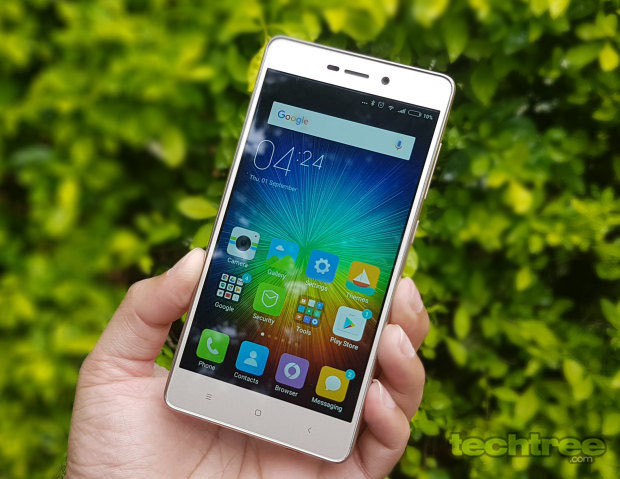 From the plasticky Redmi 2 line-up, Xiaomi has done a brilliant job in embracing the metal chassis. As mentioned earlier, the front is identical to the Redmi Note 3. Below the screen, you get three capacitive keys in standard Android layout. It is a shame that these keys are not backlit. As seen on the Note 3, the subtly raised chrome rim around the screen is present too.
The back sports a distinct groove for the fingerprint sensor. The camera coupled with an LED flash have been placed on the top corner. At 8.5 mm, the handset is not as slim as today's smartphones. There's a good reason for that though, as this tiny handset packs-in 4100 mAh battery.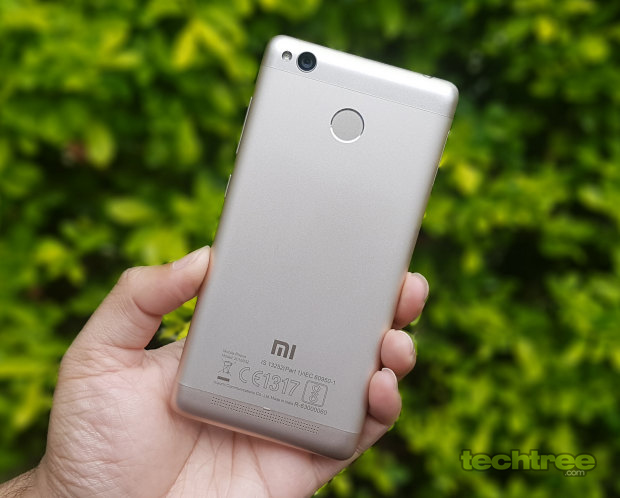 The Redmi 3S Prime feels absolutely sturdy. It does not creak or flex easily even if you exert force on it. I'm not going to describe where each and every button sits only to increase the word count. So do check out our
image gallery
.
Display
When you build an entry-level smartphone, screen is the first thing that gets the budget pinch. However, the Redmi 3S Prime is an exception. Xiaomi has generously used an IPS (In Pane Switching) panel that offers rich colours and wide viewing angles. The 5-inch screen has HD resolution, which offers pixel density of 294 ppi.
Xiaomi lets you choose from standard, warm, and cold tones. Plus, there's a 'Reading mode' that eliminated blue light to reduce eye strain when reading in low-light. The screen is quite bright too. However, due to its reflective nature, the screen is not easily readable under direct sunlight. It lacks the Sunlight Display tech found in the Note 3. For those not in the know, this feature dynamically adjusts the contrast for better screen legibility under harsh lighting.
According to the company, the Redmi 3S Prime comes with a scratch-resistant glass. However, it is definitely not made by Corning or Asahi. So I would advice investing in a screen protector.
User experience
The phone runs MIUI 7 on top of of Android 6.0.1 Marshmallow. Rather than looking like Android, Xiaomi's customisation seems heavily inspired by Apple's iOS. It lacks menu, so all your apps have to make do on the homescreen. You can use folders to arrange them though.
It has plenty of iPhone-esque transition effects and animations. Thankfully, Qualcomm's Snapdragon 430 octa-core chipset and 3 GB RAM keep things going smooth. Sure, the apps do crash once in a while, but then that's quite normal on Android phones. Xiaomi has toned down the theme colours. The palette is mostly made of light pastels. Xiaomi's typography is quite elegant too. Plus, for those with free time, there are plenty of themes to experiment with.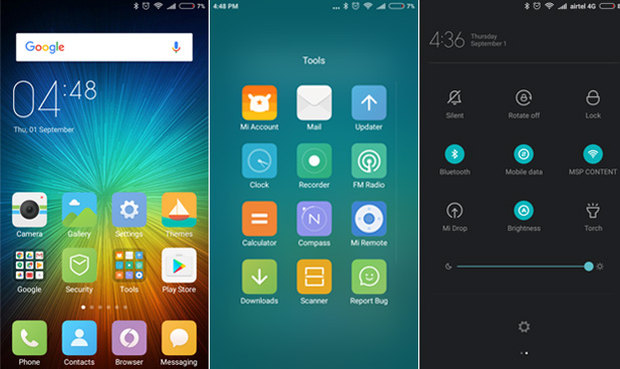 The phone comes with Xiaomi's security app that let you scan for virus, delete junk files, keep track of data, block annoying contacts, and even manage app permissions. Then, these this App Lock feature that does what it says. Similarly, you can put a gallery behind a password. You can use this feature with fingerprint scanner too. Speaking of which, the fingerprint sensor works quite fast.
While these are some nice software additions, the company has let go of the Google Now on tap feature, which comes with Android Marshmallow update. The phone has aggressive memory management. Sometimes, switching back and forth while playing a game, requires you to put up with the loading screen multiple times. On the bright side, the apps load faster on the Redmi 3S Prime when compared to the previous Redmi Phones.
It is good to see the Redmi 3S Prime come with an IR blaster. Using the on-board Mi Remote app you can control your TV, music system, and AC. I found myself using this feature more often than a fancy fingerprint sensor.
Performance
The Snapdragon 430 chipset may not sound promising, but it comes with the updated Adreno 505 GPU (Graphics Processing Unit). It makes a big difference in terms of gaming. Resource-heavy games such as the Asphalt 8 and Dead Effect 2 run with hardly any issues. Hands-down the Redmi 3S Prime performs better than any similarly priced handset. With onboard 32 GB storage, you can install plenty of apps before running into storage issues.
The handset can play Full HD videos of popular formats. If you find a non-supported format, MXPlayer comes to the rescue. When paired with decent earphones that cost under Rs 1000, the Redmi 3S Prime delivers good sound. The same cannot be said about the loudspeaker, which gets muffled due to its placement.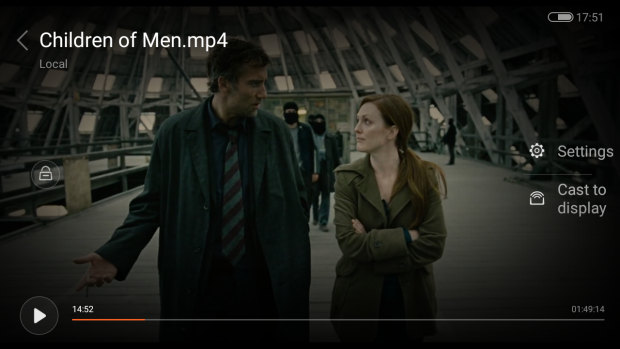 In performing its most important task, making calls, the phone does not disappoint. On Airtel's 4G network in Hyderabad and Mumbai, I hardly had any connectivity issues. The cellular calls sound loud and clear too. As long as you don't compare it to BlackBerry's call quality, you will be fine. The Redmi 3S Prime comes with a secondary hybrid SIM slot. You can either untilise for the dual-SIM setup or expand the storage by another 128 GB.
Camera
The Redmi 3S Prime sports a 13-megapixel main camera. To avoid confusion among the narcissist people, by main camera I meant rear camera. The snapper comes with PDAF (Phase Detection AutoFocus). It can produce good photographs, provided that you have undergone sniper training. If you can't hold it steady, them the photographs vary from average to blurry. The front-facing 5-megapixel camera is also quite underwhelming. Another gripe I have with the camera is that it takes its sweet time to lock focus. Much like every other Chinese handset, it comes with plenty of "beautify" filters.
Click here
, to check the camera sample.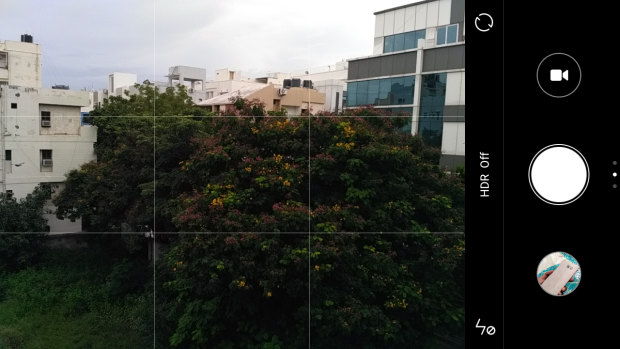 Xiaomi's phone records Full HD video at 30 fps. However, the clips turn out to be quite jittery. Not that expect OIS (Optical Image Stabilisation) at this price tag, but I think that Xiaomi cold have done a lot better with the existing hardware.
Battery
This is where the Redmi 3S Primes blows every competitor out of the water. Don't ask me how, but Xiaomi has managed to squeeze in a 4100 mAh battery in the Redmi 3S. On a full charge, I always got two days of battery life with screen on time of over 8 hours. I can't think of any similarly priced handset that can compete with Redmi 3S Prime when it comes to the battery life. Using the bundled charger, it takes over three hours to fully charge the phone.
Verdict
Unless you are into photography, the Redmi 3S Prime is a solid all-round performer. It delivers an IPS screen, metal-clad body, capable GPU, and fingerprint sensor at budget. More importantly, it offers phenomenal battery life. All things considered, priced at Rs 9000, the
Redmi 3S
Prime
the best smartphone
in this segment. However, to buy one, you need a great deal of patience to put up with
Xiaomi's
incredibly annoying weekly flash sales.
Specifications:
5-inch HD IPS screen.
Qualcomm's Snapdragon 430 octa-core chipset with Adreno 505 GPU.
3 GB RAM, 32 GB internal storage, microSD card slot that supports up 128 GB.
13-megapixel rear camera with LED flah, 5-megapixel snapper for selfies.
4G VoLTE, Wi-Fi, Bluetooth 4.1, A-GPS (Assisted GPS).
IR blaster, Fingerprint sensor, Hybrid dual-SIM support.
4100 mAh battery.
Android 6.0 Marshmallow with MIUI 7.