Pebble Time Round: Perfect for Most Wrists | TechTree.com
Pebble Time Round: Perfect for Most Wrists
Compact, elegant, and round, this smartwatch looks nice on both men and women. But there are compromises
Rating

3
/5
03rd Jun 2016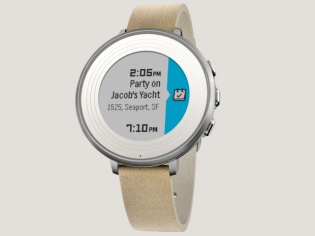 Pros:
Incredibly light and compact, Can look good on both men and women, Stylish, Good activity and sleep tracking
Cons:
Not waterproof like some others, Some apps don't scale to the round shape, No touch screen, Battery life not as good as other Pebble watches,Expensive, considering it doesn't have as much as other smartwatches, Thick bezel
The cult Pebble smartwatch recently launched in India, with all its variants available via Amazon.in. The watches cost Rs 5,999 for the Classic, Rs 9,999 for Pebble Time, Rs 13,599 for Pebble Time Round and Rs 15,999 for Pebble Time Steel.
It's the Pebble Time Round I've been using for a while, and for once, I just don't feel the weight of a smartwatch on my wrist. Certainly not compared with my Moto 360 which sticks out so much above my wrist that I knock it whenever I'm going through a door.
This Pebble is also lighter than Apple's Watch. Of course, it isn't the same kind of smartwatch as the others -- it's a colour e-paper watch and doesn't have a touch screen or heart rate sensor though of course it has an accelerometer and a gyroscope to measure activity.
Often enough I found myself swiping and tapping to get a response from it -- to no avail. But those who haven't used another smartwatch before shouldn't have that problem at all. You actually move around on the watch using its four hardware buttons, one being for its screen light.
The Time Round connects to your phone -- both Android and iOS -- via Bluetooth. You make your settings and add apps through the Pebble app. You also enable the Android Wear app for it to get more notifications. Every time you get a text, a call, or some other notification, you can see it on the Pebble watch. It has a microphone, but no speaker -- as is the case with most smartwatches.
You can control music through it and dictate notes. But what people use it most for is tracking their activity. You could consider it rather expensive for what it does -- or doesn't do, rather -- because the other smartwatches may be more clunky, but they can do a lot more, such as measure your heart rate whenever you want.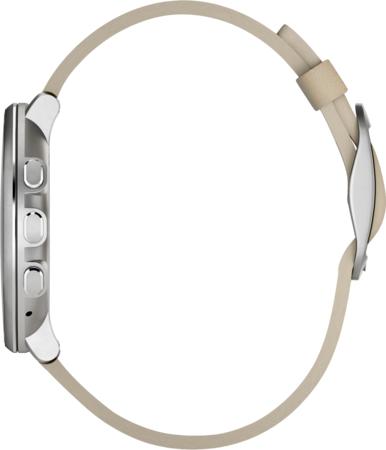 The Pebble Time Round is small, light, with a non-touch colour e-paper display, and a battery that runs over two days on a charge
Three big quibbles users have with the new Time Round is that for one, it's not outright waterproof (it's splash resistant and you can't take it for a swim) and for another, the battery life isn't a week like with other Pebble watches but about two days.
And finally, some people don't like the thick bezel making the small screen even smaller. It looks stylish, but small.
Lila Ray is a corporate consultant and loves her gadgets almost as much as she does her shoes. You can write to her at [email protected]
TAGS: Pebble, Pebble Time, Android, Bluetooth, Pebble Time Round