BlackBerry Priv: Innovative, Solid, Overpriced (Again) | TechTree.com
BlackBerry Priv: Innovative, Solid, Overpriced (Again)
Android, great build and screen, slider keyboard, but at Rs 62,990, the Priv isn't saving BlackBerry
Rating

4.5
/5
28th Jan 2016
Pros:
Great design, build, keyboard, Great camera, screen, Android apps, BB10 features: Hub, security
Cons:
Way overpriced at Rs 63k, Too tall with keyboard out, Keyboard an acquired taste
BlackBerry launched its first Android phone, the Priv, in India today, three months after its US launch and availability. And as with every one of its flagships—most recently the Passport—the price is staggering, and not in a happy way.
The Priv runs a custom version of Android, while retaining traditional BlackBerry strengths: security, email, and of course the keyboard. It also retains the big BB10 feature, the BlackBerry Hub: a universal inbox view for all your messages and calendars in one place.
It was nice to see an Uber app on the handset I looked at: that's an app I miss on my Passport (along with Ola, and quite a few others). Android, of course opens up a range of apps, or better versions of apps. For instance, Twitter for BlackBerry sucks eggs and is rarely ever updated.
And there's keyboard shortcuts, one of the best things about any device with a physical keyboard, especially BlackBerry ones.
The keyboard is an acquired taste for those who have moved on to all-touch phones. Some reviewers noted they had trouble balancing the phone, but that was also an issue with the Passport, a large, chunky phone with an unusual, wide keyboard at the bottom, and I got used to it (the Passport is my second handset for over a year now).
I used the Priv briefly (a friend's, bought in the US) and didn't have a problem with the keyboard, though the keys are smaller than the Passport's and Classic's. Solid, good-old-BB keys on a slider, packaged into a surprisingly slim phone that is actually a few grams lighter than the Passport's 196g. The Classic, though, probably still has the best keyboard. And you can always use the on-screen keyboard or a replacement.
Slide out the keyboard, and the Priv is 184 mm tall. Slide it in, and it's 147 x 77 x 9.4 mm, the tallest BlackBerry around. The square, squat Passport is wider, of course, over 12 mm wider. I loved the Priv's razor-sharp 5.4", 16:9 AMOLED display.
Inside, there's a Qualcomm Snapdragon 808 six-core chipset, 3GB RAM, and 32GB internal storage (with, like all good BlackBerry handsets, a microSD card slot).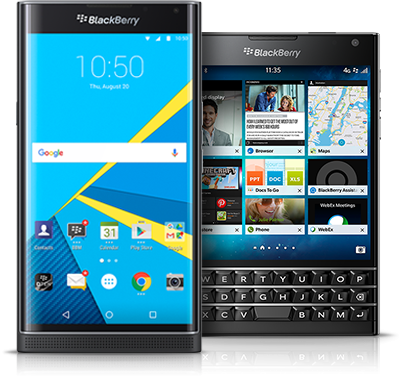 The Priv is narrower and lighter, but taller, than the Passport
One of the reasons I love the Passport is its excellent camera (though it has trouble focusing quickly in low lighting). The Priv's 18 Mp rear camera goes a few steps further, with a Schneider lens and dual LED flash, and appears to focus snappily, unlike the Passport. Though I didn't have time to really test out the Priv, I'd say its camera is among the best out there for indoor, low-light shots. There's also 4K, 30p video.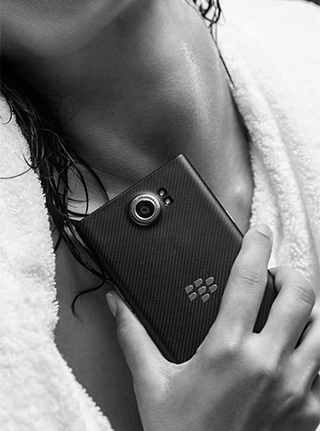 The 18 Mp rear camera rocks: 18 Mp, Schneider lens, dual flash, quicker than the Passport
So there you have it: a keyboard and other BlackBerry strengths, Android apps, and a great camera. If a rich uncle or spouse is gifting you a phone, this is a good one to pick. If you're spending your own money, that's a toughie. ..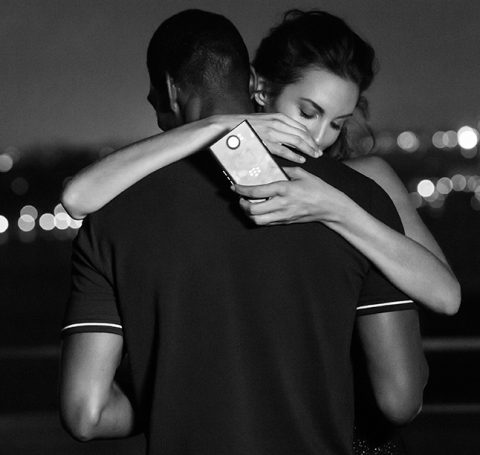 No, the Priv isn't your discreet little phone. (All pics from BlackBerry)
This is yet another bold handset for a company perpetually on the brink of shutdown, and for this highest-ever iPhone-busting pricetag, I'm going to recommend a bravery award for BlackBerry. Unfortunately, bravery doesn't sell handsets, especially not BlackBerry ones.
TAGS: BlackBerry Priv