Samsung Sets Up Solar Mobile Charging Stations Outside Its Stores | TechTree.com
Samsung Sets Up Solar Mobile Charging Stations Outside Its Stores
The green solar chargers can charge up to 20 mobile phones in day using just sunlight.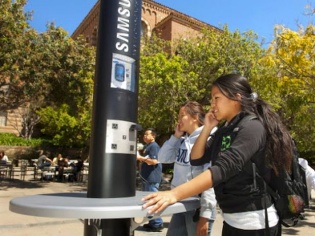 Samsung seems to be killing two birds with one stone in Bangalore lately. It is accomplishing the same by utilizing solar-based mobile charging stations, which utilize just sunlight to charge smartphones.
Of course there is another side to this. While the charging is free for those who need to use it, Samsung plans to monetize on its green initiative by pushing customers for demonstrations and conversions as well.
Such a facility is a first of its kind in India and Samsung claims that the station that produces 300 KW of energy is enough to charge more than 20 mobile phones in a single day. Also the station requires little maintenance.
As of now this green initiative by Samsung seems to be available only at a few Samsung Cafes.
The Economic Times reports that the same are available at CMH Road, Indiranagar; Total Mall, Sarjapura Road; Sahakaranagar; Malleshwaram; and Vijaynagar in Bangalore City.
TAGS: solar panels, Samsung