Apple iOS 9: Features To Watch Out For | TechTree.com
Apple iOS 9: Features To Watch Out For
In-depth look at the new and revised features of Apple's latest mobile OS.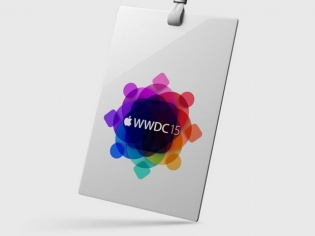 Today at the Moscone Center, Apple unveiled its most advanced mobile operating system yet, called iOS 9. We say advanced because iOS 9 has stepped up from iOS in more ways than one and at times even seems like it outdid its predecessor thanks to some new and interesting features for both the iPhone and the iPad.
Yes, iOS 9 has goodies for both your iPhone and your iPad. In fact it brings in some much-needed multi-tasking to the iPad, and it does so in a way that has never been done before.
Apple's SVP, Craig Frederighi, took to the stage to show off some of the new features (and take a few pot shots at Google) with a proactive Siri and iPad muti-tasking as the highlights of the keynote.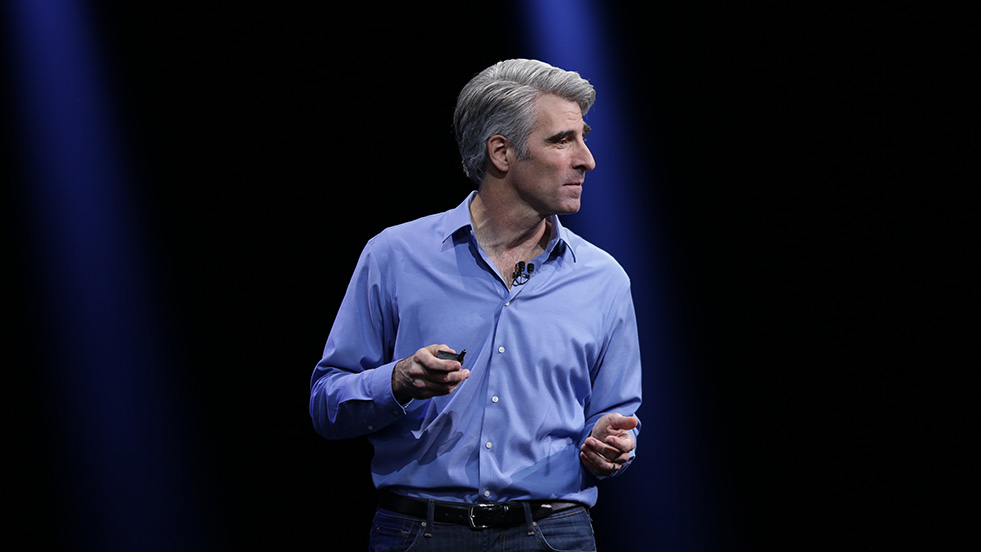 Proactive Siri and Smarter Spotlight Search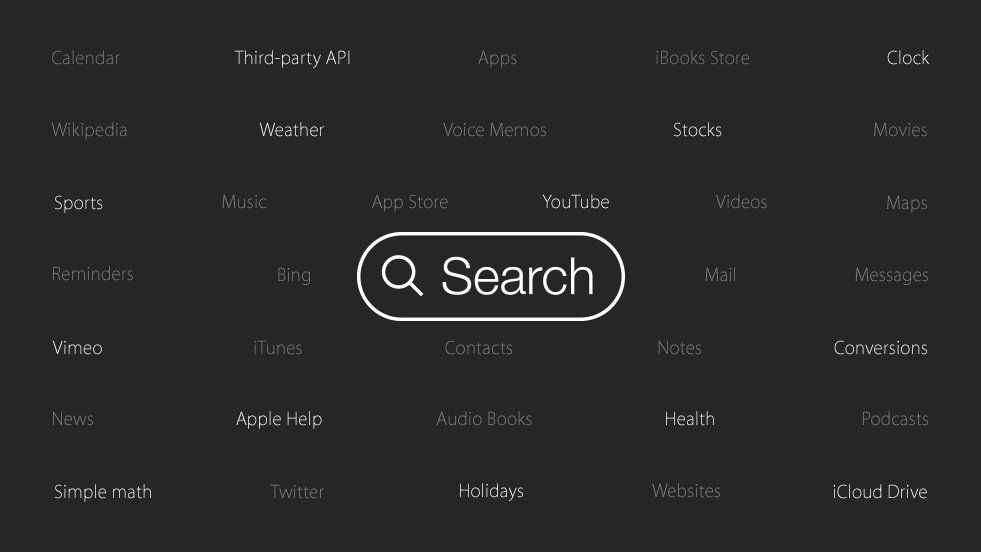 Craig Frederighi demoed on stage a new Siri, one that is a lot smarter and more integrated than ever, bringing to users the right data at the right time.
Siri will not just observe your usage habits, but also do things like checking into your emails and even cross-checking those unknown callers by sifting through your email. In fact it will even help you add contacts you usually add to a type of email.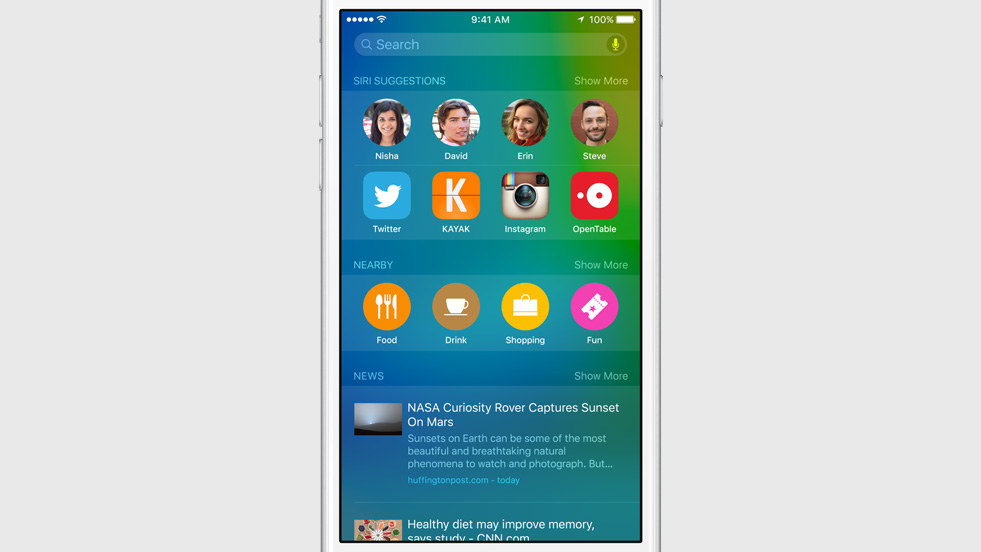 It will also offer context sensitive music to listen, when a user plugs in their headphones (like in a car or in the morning and even when a user happens to take off jogging.
But there's more, Spotlight Search will now not only show suggestions from the App Store, but also displays recent contacts, depending on whom your have conversations with and how frequently you have them.
Apple took a jab here at Google by mentioning that its Spotlight Search looks for all of the above data without using a user's Apple ID and that it does not share the same with third parties. Users will always be in control of their data and content.
Also delivered at the WWDC today was an API for search. Something that has been sorely missed by developers and will allow users to search into apps directly from Spotlight Search.
Apple Pay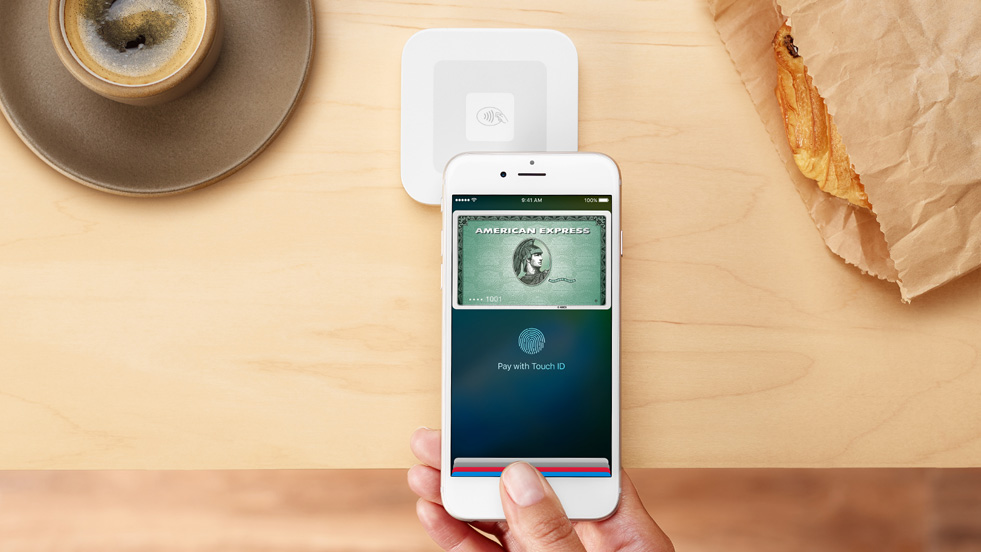 Apple Pay saw a major update as well, with in-store credit cards and debit cards now being accepted. Passbook has now been upgraded to Wallet. More over, Apple Pay will be coming to a the UK in June and has even hooked up with the London Transportation system to enable payments for travel via Apple Pay.
Notes App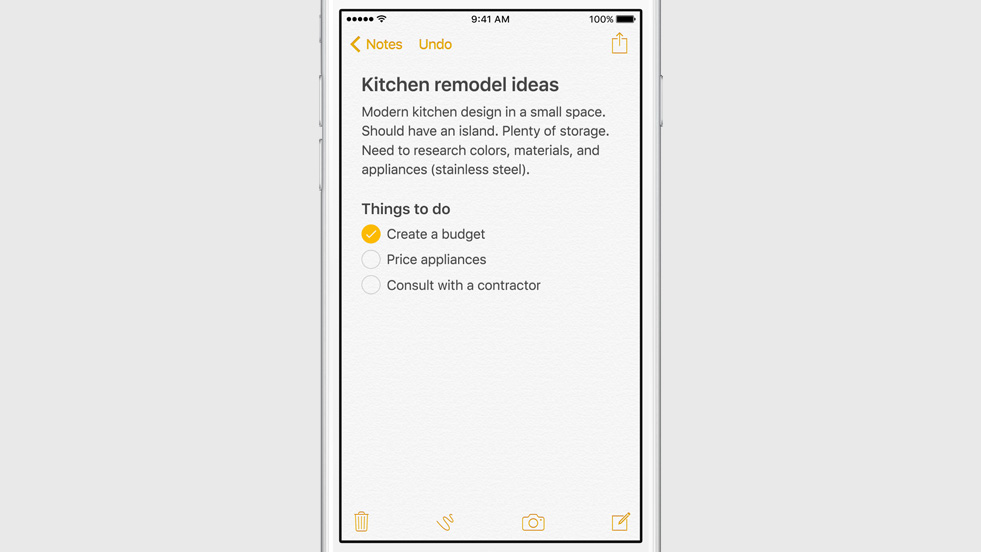 The good ol' Notes app in iOS finally get a new handy tool bar. The new tool bar adds support for a number of new features including options for advanced formatting, that now includes checklists, drawing and sketching tools and even the abilty to add URL's from Safari in the form of a neat-looking framed box. More importantly, Notes now syncs across all devices with the help of iCloud.
Maps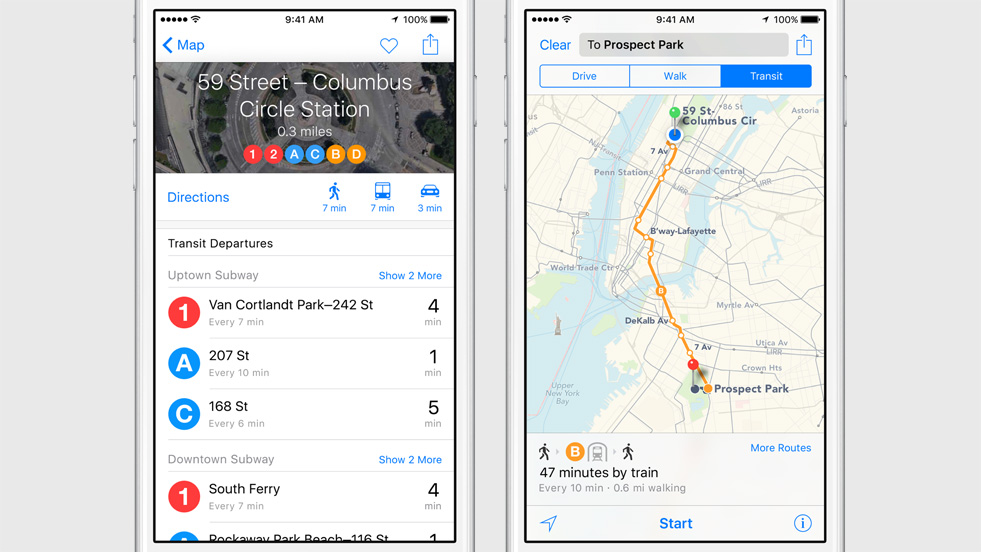 Maps was indeed a sore spot for iOS and although Apple has big plans for its service, iOS 9 brings very little to the table in the form of a new Maps layer called Transit. Transit adds multi-modal routing, gets a new layer of detail including entrances to stations and subways and will be rolling out to 300 cities including some from China in the initial wave. Also added to more informative POA's was an indicator to show merchants that support Apple Pay.

A brand-new News app
Apple showed off a brand-new News app that showcases rich and interactive news feeds coming from a number of famous content sources. The feeds are obviously personalised and everything appears in the new Apple News format. News items can be bookmarked as well and again all preferences are private with the data not being shared with Apple's services.
The News app will be available only for the US, UK and Australia with the initial release.
As rumoured earlier, Apple also had something special for the iPad.
QuickType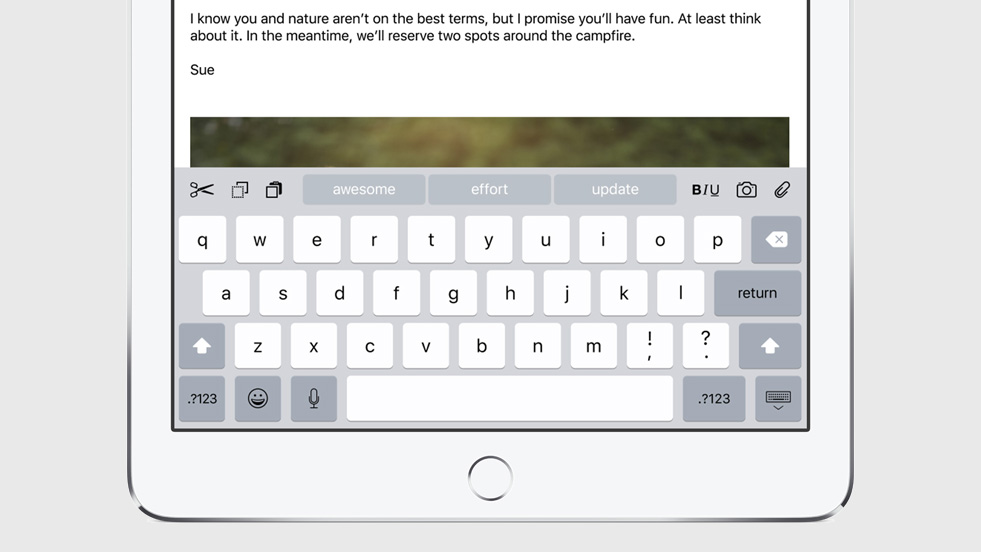 This included a new QuickType keyboard that allows for use as a trackpad when two fingers are placed simultaneously on the screen. The new keyboard for iPad also works well with third -party physical keyboards and Apple has even made arrangements for including a multi-tasking work around.

SlideOver and SplitView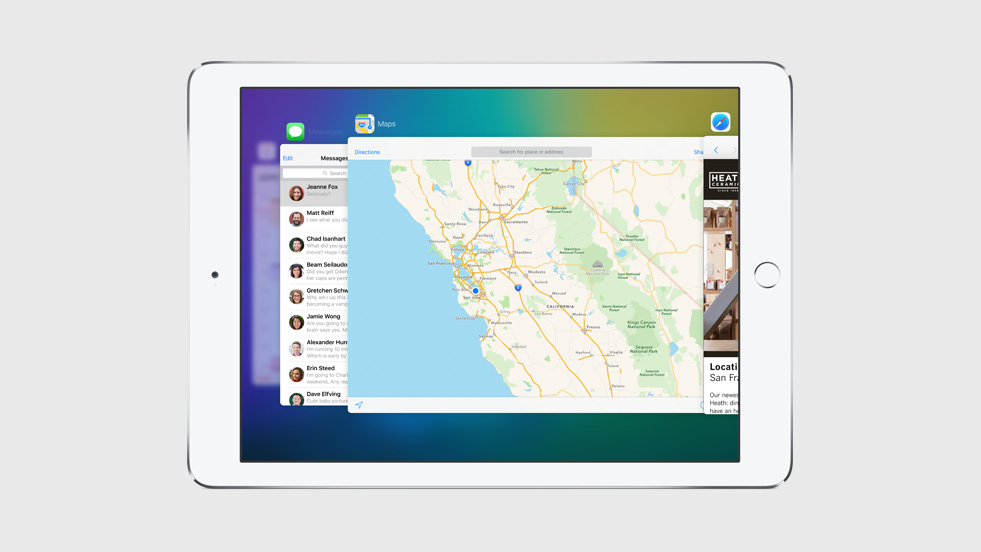 As for the much-awaited Multi-tasking features, users can now drag in a new app to the side of the screen with the SlideOver feature (shown below); one that will bring smaller (expandable) versions of apps with a simple gesture.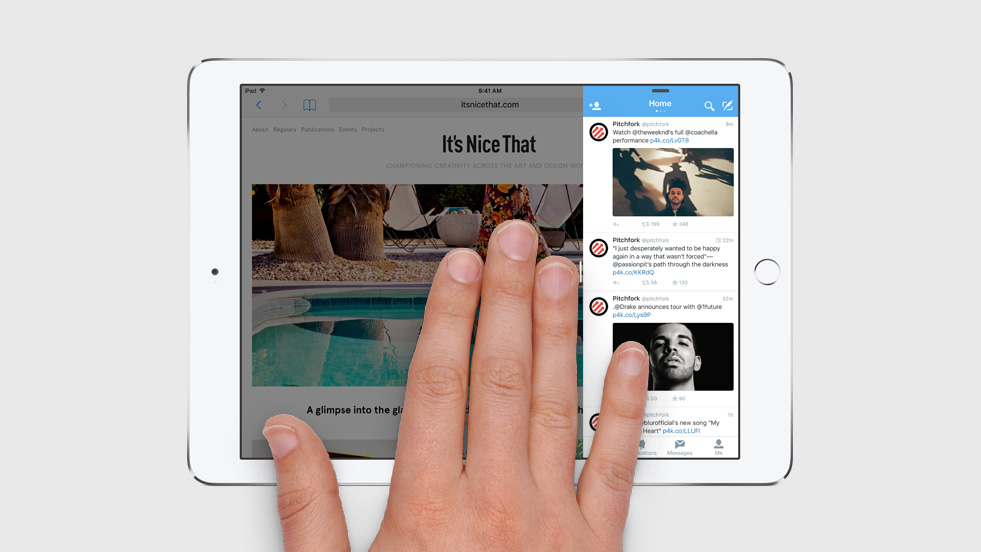 Also showed off was the new split-screen view called SplitView, that allows users to place two apps alongside each other and even scroll through both of them at the same time.
The new App Switcher will be available on iPhone as well, while SplitView is only available for the iPad Air 2 models.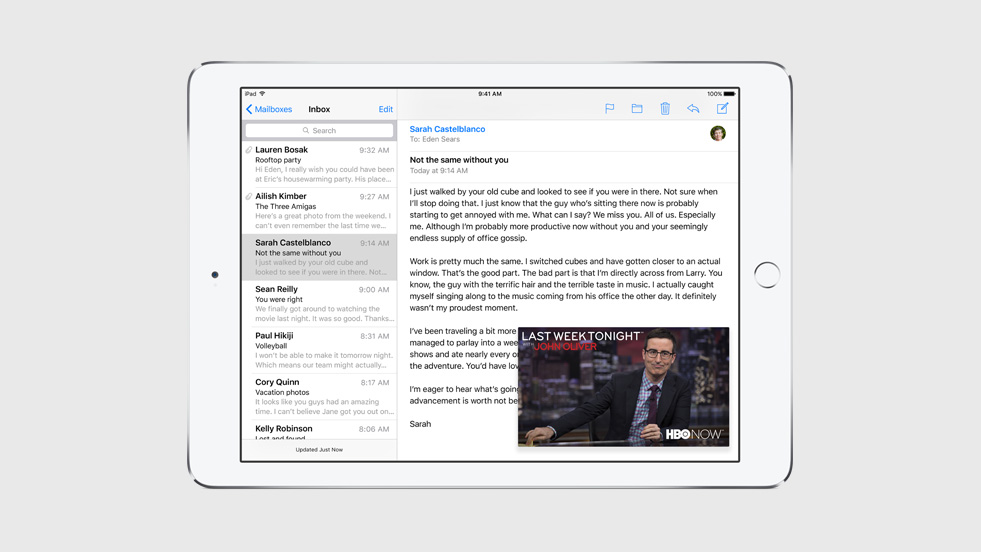 Also introduced was a very Samsung-like Picture in Picture viewer that scales video down allowing owners to listen or view video while working with other apps.
Apple also showed off that it was paying attention to user feature requests as well. Craig Frederighi spoke about a new Low Power mode that will add upto 3 hours of extra usage when on a low battery.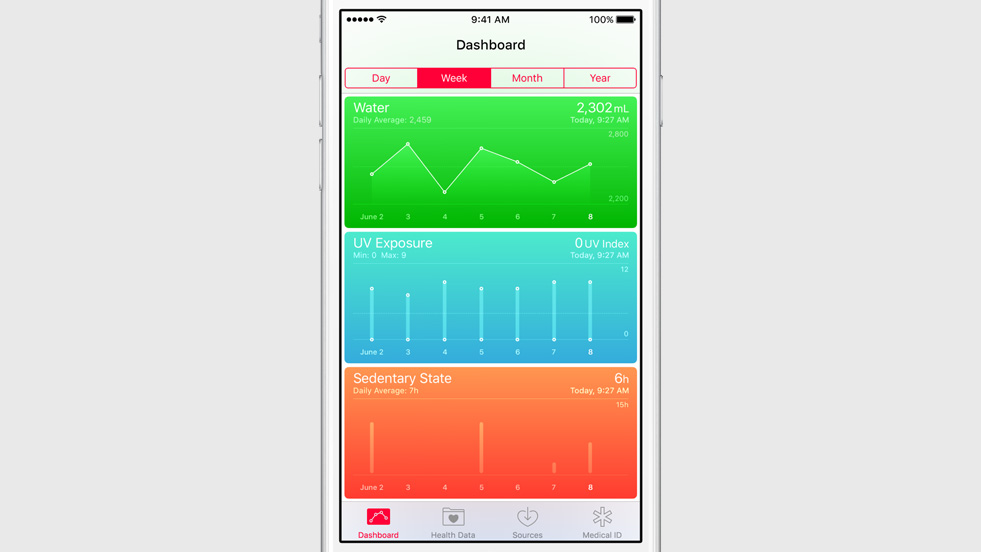 The refreshed HealthKit now comes with hydration, UV exposure and other new health metrics as well. CarPlay will soon be able to work without a cord (leave your phone in your pocket) with Apple adding support for wider and bigger displays.
Swift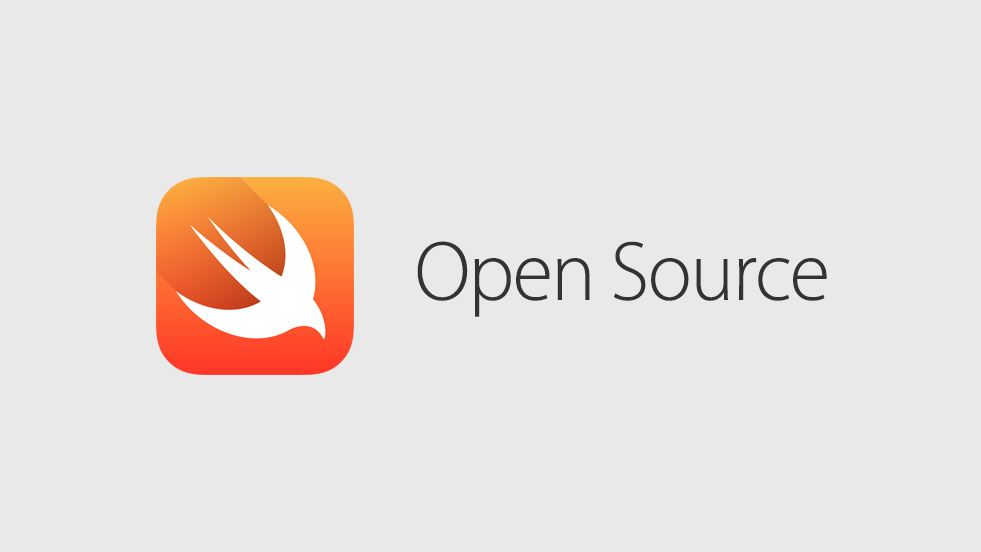 In what saw a big applause from developers present at the event, Apple announced that its hugely successful Swift programming language, will finally go open source. This would be available for iOS OS X and LINUX systems.
The bit about availability
To close things off for iOS 9, Apple announced that its new OS is way smaller than previous releases making it possible for Apple to support every single device out there, that runs iOS 8.
The Developer beta of iOS 9 goes live today, while the Public beta will go live somewhere in July.
TAGS: Software, Apple iOS 9, iOS, Apple, Mobile Phones, Tablets, WWDC 2015