Facebook Stickers Are No Longer Restricted To Messenger | TechTree.com
Facebook Stickers Are No Longer Restricted To Messenger
You can now use Stickers to comment on a user's timeline post, group post or page post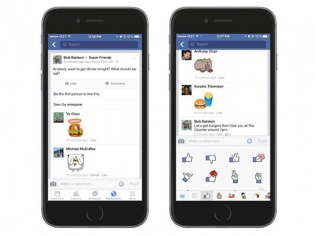 Facebook has announced that Stickers – the cartoonish images that users of Messenger know of all too well – will be available to a wider audience. Starting today, you'll be able to comment on a timeline post, group post and page post with a Sticker, expressing yourself in ways that weren't possible before.
"Stickers will allow people to reply to a variety of posts in a more fun way than words alone," said Bob Baldwin, the engineer behind the project at Facebook. To comment on any post with a sticker, all you have to tap the emoji icon at the right corner of any comment field on the social network.
With people increasingly accessing social networks via mobile devices, typing isn't always the easiest way to communicate thoughts to others. It's also the reason why messaging clients embrace emoji, as it's an easier way to convey your mood to a friend, and the same is now becoming true on social networks like Facebook.
The company added that Stickers will be available to users across its web and mobile platforms. Apart from the Stickers themselves, the most notable thing to take away from this announcement is Facebook's increasing focus on mobile. Stickers also serve as an element that unifies user experience across Messenger and Facebook itself.