Pump Up Your World Cup Finals with the Ultimate Sound Upgrade from GOVO at just Rs. 12,999/- | TechTree.com
Pump Up Your World Cup Finals with the Ultimate Sound Upgrade from GOVO at just Rs. 12,999/-
Experience Cricket Cheers Like Never Before with Dolby Audio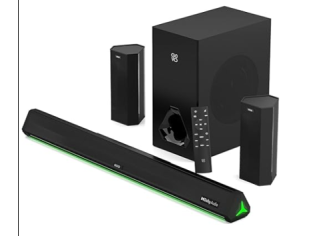 GOVO a new challenger in the audio technology space recently introduced its newest addition to its soundbar lineup, the GoSurround 970 Soundbar. This exceptional product is the ultimate ticket to a sensational World Cup finals experience. This new addition is not just a soundbar but a front-row pass to audio nirvana at just Rs. 12,999/-
The soundbar market in India achieved a total size of US$ 153.5 Million. Looking ahead, IMARC Group anticipates substantial growth, with the market projected to reach US$ 284.1 Million by 2028. This expected growth reflects a robust compound annual growth rate (CAGR) of 10.9% during the period from 2023 to 2028. Soundbars are audio systems designed to deliver stereo effects and provide high-quality audio and immersive surround sound while requiring minimal space
Commenting on the launch of the GOVO GoSurround 970 Soundbar, Mr. Varun Poddar, Founder of GOVO said, "We're excited to introduce the GOVO GoSurround 970 – the perfect sound upgrade for the Cricket World Cup finals. As cricket fans gear up for this epic event, our aim is simple: to enhance the excitement with top-notch audio. With Dolby Audio, every cheer and boundary will resonate with the energy that defines the game. The GOVO GoSurround 970 isn't just a soundbar; it's your way to take the sound experience of the Cricket World Cup finals to a whole new level!"
Here are the salient features of the GOVO GoSurround 970 Soundbar:
Dolby Audio : Enjoy dramatic, high-quality surround sound from 5.1 separate audio channels with Dolby Audio
DSP Enabled Subwoofer: Enjoy your theatre experience with the deep bass of the 6.5" subwoofer
Dynamic LED Lights: Get the acoustic experience to the next level with the most stylish LED lights in the GOVO's signature colour
5 Equalizer Modes: Switch through Movie, News, Music & 3D modes, and enjoy your home cinema experience
Remote control: Adjust the Bass, treble & volume with the most stylish remote control
Multiple Connectivity: Connect with HDMI (ARC), AUX, USB & OPT
Bluetooth V5.3: Connect automatically your mobile device and enjoy the music louder than ever
Integrated Controls: Control your music experience and pairing through the key panel on the soundbar
LED Display: Check the status of your soundbar through the LED display
Dynamic Mounting (Wall/Shelf): Place it in front of the TV or mount it on the wall, the choice is yours.
The GOVO GoSurround 970 Soundbar is available at GOVO and Amazon at an exclusive price of Rs.12,999/- This product comes with a one-year warranty and is available in the colour Platinum Black.
TAGS: GOVO