Top 10 Home Security Systems to Try Today | TechTree.com
Top 10 Home Security Systems to Try Today
A professional home security system has become a must to safeguard the property against any unlawful entry and keep the house safe.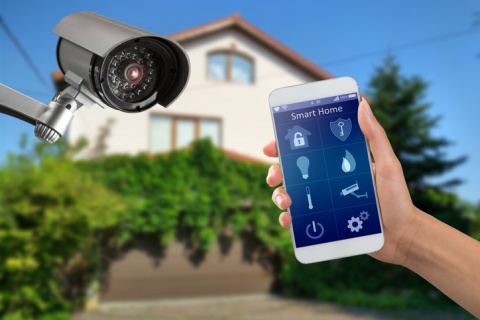 Due to a steady rise in incidents of burglary and theft, there is a fast-growing demand for home security systems across the world. These security systems also help deal with a number of other threats, such as water damage, smoke, and fire.
Although there are a wide range of service providers and countless home security systems available in the market, it is essential to understand our needs and the functionality of these systems before buying one. Getting a professionally monitored home security system requires careful research and planning. Some of the top 10 home security systems discussed on this page provide comprehensive security for your home, which is a combination of security devices, smart cameras, and advanced sensors.
Let us take a look at the best home security systems to try today.
1. The Vivint Smart Home
Vivint Smart Home is a full-blown home security system that comprises cameras, thermostats, door locks, and lights. It is perfect for homeowners who want a simple, easy-to-install, professionally monitored security system. Take advantage of the colorful, 7-inch touch-screen and speedy emergency response times.
Pros
Speedy response and Alexa and Google voice support
Responsive touch screen with remote control
Cons
Can be expensive

2. Ring Alarm
This security system is very affordable but professional monitoring at the same time. The comprehensive home security system includes door/window sensors, motion detectors, and a base station. One can easily monitor and control the entire security of their home because of the seamless integration between doorbells and camera videos.
Pros
Affordable and professional
User-friendly mobile app
Cons
Possible security breaches

3. ADT Command
ADT Command has been picked up for the list because of its expansive security components and outstanding mobile applications. In addition to the automated lineup of cameras, doorbells, and sensors, the home security system allows one to control the system with Google Assistant and Alexa. It is the right choice for homeowners who need a professional home security system with seamless automation features.
Pros
Excellent customer service and integrated support
Cons
Expensive due to installation and subscription costs

4. SimpliSafe
SimpliSafe is a customizable home security solution that provides motion detectors and entry sensors and comes with high-definition cameras. It is very simple and easy to control the system through a dedicated mobile app that allows one to monitor their home from anywhere. SimpliSafe integrates with both Alexa and Google Assistant, making voice control possible. Thus, managing your home security becomes more convenient and accessible with the SimpliSafe app.
Pros
Easy to install
Cons
Limited range of security cameras

5. Wyze Home Monitoring
Wyze Home is a reputed name in the security industry and has everything one needs to protect their home, such as climate sensors, cameras, entry and motion sensors. As it is affordable, completely customizable, and easy to install, it works seamlessly with smart devices and is appreciated by budget-conscious homeowners. This comprehensive solution offers professional protection and complete control and monitoring.
Pros
Easy to install and affordable
Cons
Alarms could be louder

6. Arlo Ultra
Arlo Ultra offers high-definition video surveillance, equipped with a wireless camera system and advanced features such as color night vision, 4K resolution, and a 180-degree field of view. It is great for those looking for exceptional video quality and a sleek home security system. One can develop a cohesive smart home ecosystem based on Arlo Ultra.
Pros
Easy installation
Stellar video quality
Cons
Have to pay extra for the camera's smart features
Some other home security systems that need special mention on this page include Frontpoint, Abode, Vivint Smart Home, and Canary All-in-One Security System, as they distinguish themselves from others in terms of functionality, monitoring capabilities, and compatibility with other connected devices.
TAGS: Sponsored