Zebronics 9550 Pro Dolby 5.2: The First Indian Brand with Dual Subwoofers and a Massive 650W Output | TechTree.com
Zebronics 9550 Pro Dolby 5.2: The First Indian Brand with Dual Subwoofers and a Massive 650W Output
The Zeb-Juke Bar 9550 dawns a new benchmark in the realm of Home-Audio as it sports dual subwoofers, which is the first of a kind by an Indian brand and a humungous 650W output, RGB and multi-connectivity options – elevating the home theatre experience to the next level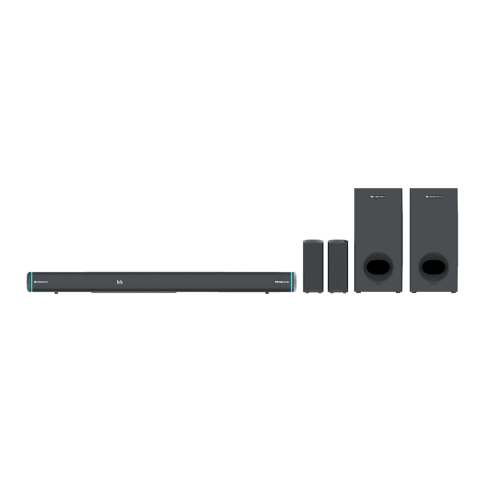 Zebronics, an Indian brand that dominates the IT Peripherals domain and a pioneer in the Home Entertainment arena, has yet again created history by being the 1stIndian Brand to introduce a bombastic 650W Soundbar with dual wireless subwoofers & dual satellite speaker named Zeb-Juke Bar 9550 Pro Dolby 5.2.
The Zeb-Juke Bar 9550 Pro Dolby 5.2 redefines the term "powerhouse" by seamlessly integrating three key components. It features a sleek soundbar housing three 75W drivers, along with dual wireless satellites, each with an output of 75W. To top it off, there are two wireless subwoofers, each packing a punch at 75W, resulting in an astounding combined output of 625W. This, coupled with the immersive quality of Dolby Audio, elevates the auditory experience to new heights, offering a rich, intricate, and multi-dimensional sound scape.
The triple-driver soundbar and satellites work in harmony to reproduce crystal-clear audio, while the subwoofers add a depth of powerful bass, resulting in a dynamic and captivating audio performance. With these impressive features, this Home Entertainment setup is an opportunity you won't want to let slip by.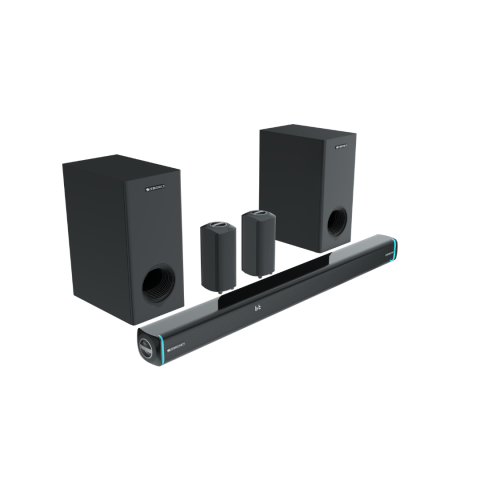 The Zeb Juke Bar - 9550 Pro Dolby 5.2 is a standout with versatile connectivity and a stylish design. It goes a step further by featuring vibrant RGB lights, elevating both aesthetics and the setup's ambiance. Supporting BT v5.3, HDMI (ARC), Optical-in, AUX, and USB modes, it caters to diverse preferences, whether it's wireless music streaming or TV connectivity. This soundbar's sleek build, premium glossy finish, and wall-mountable design seamlessly blend with any living space, enhancing both visual appeal and functionality. It's not just about excellent sound quality; it's about creating an immersive audio-visual experience with a touch of vibrancy.
On this launch, Co-Founder & Director, Mr. Pradeep Doshi said: "Being a brand with a legacy of 26 years, Zebronics has a demeanor of crafting products that are at the cutting edge of technology. The Zeb-Juke Bar 9550 Pro Dolby 5.2 is an epitome of a vision turning into reality as Zebronics becomes the first Indian brand to have a soundbar with dual wireless subwoofers. Along with the Dolby Audio support, this setup would be a bliss for Home Entertainment aficionados as it engulfs the ambiance in immersive sound creating a perfect cinematic experience. By adding this soundbar to our existing repertoire, we're intensifying our commitment to provide 'Premium for Masses', a reality. Each day, our idea of "Ab Home ko banao Home Theatre" becomes more evident as we continue to revitalize the home entertainment landscape by innovating more and being 'Always Ahead'"
The ZEB-JUKE BAR 9550 Pro Dolby 5.2 will be available on both Amazon and Flipkart at an introductory pricing of Rs. 19,999 from 2nd November 2023.
TAGS: Zebronics