Celebrate the Essence of India: Grab pTron Bassbuds at a Groundbreaking ₹449! | TechTree.com
Celebrate the Essence of India: Grab pTron Bassbuds at a Groundbreaking ₹449!
pTron's Festive Bonanza: Unveiling Exclusive Deals for October 2023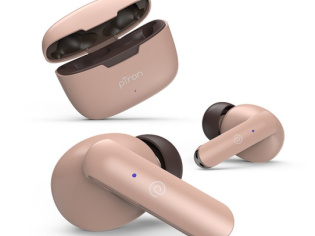 pTron - In the spirit of the vibrant Indian festivities and monumental online sales season, pTron is elated to announce groundbreaking offers and deals on its indigenous range of digital lifestyle products, amplifying the joy of the upcoming Great Indian Sale on Amazon and Big Billion Day on Flipkart this October 2023!
Crafting Milestones with Indian Excellence: pTron, with its indigenous manufacturing, is not only accentuating the 'Make in India' initiative but is also echoing the resonant beats of Indian craftsmanship, technological innovation, and superior quality in the global arena.
• By offering the pTron Bassbuds Duo at a groundbreaking price of Rs. 449, originally priced at Rs. 799, we are setting an unparalleled global precedent, underscoring India's ascending stature as a global manufacturing powerhouse.
• Our endeavour symbolizes a festive gift to the nation, allowing millions to experience top-notch technology made in India, while also fostering national pride and unity through our contributions to the Indian economy and technological ecosystem.
Unwrap the Celebration with Unrivalled Offers: Our diverse portfolio, featuring cutting-edge wireless audio equipment, smartwatches, chargers, and more, is available at unbeatable prices, ranging from Rs. 449 to Rs. 1,199, making premium tech accessible to all.
• This festive season, immerse in the enchanting world of sound with pTron's wireless earbuds, neckbands, and headphones, and stay connected and active with our stylish and functional smartwatches, all while supporting indigenous innovation and manufacturing.
Patriotism Interwoven with Innovation: Choosing pTron is choosing India. Every purchase reverberates with the spirit of Indian craftsmanship and contributes to the country's progressive journey, creating a symphony of national pride, unity, and technological advancement.
• Our journey is a testimony to the brilliance and resilience of Indian innovation, showcasing to the world how 'Quality Outshines,' while also paving the way for a technologically self-reliant India.
CEO's Vision: Mr. Ameen Khwaja, Founder and CEO of pTron, reflects, "Our offerings are a festive lantern, illuminating lives with joy, quality, and Indian brilliance. We are not just a brand; we are a movement, shaping the future while staying rooted in our rich heritage, creating a harmonious blend of tradition and innovation."
So, this October, celebrate the confluence of technology and tradition with pTron. Explore, shop, and revel in the festive symphony of Indian innovation, making every moment monumental. Let's come together to cheer for a brand that's truly ours, embrace the pTron difference, and echo the proud beats of 'Made in India' to the world!
TAGS: Ptron