Hearmo Unveils New GeN HearFit VS: The Thinnest Smartwatch Redefining Style and Functionality | TechTree.com
Hearmo Unveils New GeN HearFit VS: The Thinnest Smartwatch Redefining Style and Functionality
8mm Ultra-Slim Smartwatch with Bluetooth Calling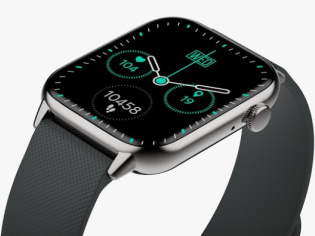 Hearmo, the leading smart wearable and hearable lifestyle brand, introduces the New GeN HearFit VS Smartwatch. Striving to bring joy to its customers, Hearmo unveils a smartwatch that seamlessly blends premium design with unmatched functionality. This exceptional timepiece stands out with its ultra-slim 8mm profile, a stunning 1.9" bezel-less display, and Bluetooth calling capabilities, setting a new standard for modern lifestyle accessories. Available at an introductory price of just INR 2,499/-, while its MRP is 6,999/-, the New GeN HearFit VS redefines value in the realm of smartwatches.
Mr. Mahendra D Jangir, Founder & CEO of Hearmo, said, "Our vision is to create happiness through innovation and affordability. We aim to empower individuals with premium technology that enhances their daily experiences. This smartwatch aligns with our commitment to delivering quality at accessible prices, improving the lives of our valued customers."
Sleek Design
The New GeN HearFit VS smartwatch boasts a remarkable 8mm ultra-slim profile, setting a new standard for elegance in wearable technology. Crafted with precision, its metal alloy body exudes sophistication while ensuring exceptional comfort throughout the day.
Vibrant Display
With a 1.9" bezel-less display featuring an impressive 240x285 resolution and a PPI of 201, this smartwatch delivers vivid and crisp visuals, enhancing your viewing experience.
Effortless Connectivity
Stay connected effortlessly with Bluetooth calling functionality. Answer calls, check messages, and stay in touch on the go, making your daily tasks more convenient and efficient.
Personalization at Your Fingertips
Express your style with multiple standby watch faces, giving you the freedom to match your watch to your outfit or mood effortlessly.
Performance and Style
Boasting a brilliant 600-nit brightness and a sleek grey color option, the New GeN HearFit VS Smartwatch is the epitome of style and performance, making a statement wherever you go.
Comprehensive Health Monitoring
Prioritize your well-being with comprehensive monitoring capabilities, including heart rate and blood pressure tracking, as well as sleep analysis, helping you stay on top of your health goals.
Price and Availability
The Hearmo New GeN HearFit VS Smartwatch, priced at just INR 6,999/-, is now available on Amazon and in offline retail outlets across India at an exclusive launch offer price of INR 2499/-. This high-quality smartwatch comes in a sleek grey color, making it a stylish and affordable choice for individuals seeking top-tier technology in a slim and elegant package. Additionally, the box features 99.99% eco-friendly retail packaging, highlighting Hearmo's commitment to sustainability.
TAGS: Hearmo