oraimo Launches FreePods Lite with Massive 40-Hour Playtime in India | TechTree.com
oraimo Launches FreePods Lite with Massive 40-Hour Playtime in India
Leading the charge in audio innovation, oraimo is proud to announce the launch of its latest masterpiece – FreePods Lite, truly wireless earbuds that represent the pinnacle of wireless audio technology.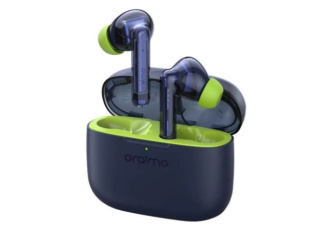 The launch of FreePods Lite marks a significant milestone in the brand's journey to bring superior audio solutions to the Indian market. With this launch, the brand aims to empower music enthusiasts, professionals, and everyday users with a truly remarkable audio experience.
Following the success of products like FreePods 4 and OpenPods, oraimo is once again set to redefine the listening experience for consumers across India. The brand believes that exceptional sound quality and convenience should not come with a premium price tag, and FreePods Lite embodies this commitment by delivering affordability without compromising on quality.
FreePods Lite is designed to offer users an unparalleled audio journey with a slew of astonishing features that promise to deliver dynamic sound quality and exceptional endurance. Whether you're a music enthusiast, a fitness buff, or a daily commuter, FreePods Lite is here to elevate your audio experience to new heights.
As oraimo expands its offerings, it is proud to introduce Bollywood sensation Mrunal Thakur as its newest icon. This collaboration signifies a new era where practicality seamlessly merges with style.
Key Features of FreePods Lite:
Unrivaled 40-Hour Playtime: With an impressive 40-hour playtime on a single charge, FreePods Lite ensures that your music lasts longer than ever before.
Fast Charging: These earbuds harness the power of fast charging in 10 minutes and have a playtime of 120 minutes.
Exceptional Sound Quality: FreePods Lite delivers an efficient sound profile, characterized by deep, immersive bass and crystal-clear notes that breathe life into every track.
Customized Listening Experience: Tailored to your preferences, FreePods Lite adapts to your unique hearing profile, guaranteeing that each note is heard exactly the way you want it.
Transparency: Boasting a sleek transparent design adorned with a captivating dual-color tone.
oraimo Sound App Integration: Elevating your user experience to the next level, oraimo Sound App seamlessly enhances your device's functionality. It is the sole brand offering such an app with a product priced under INR 1000.
Pricing and Availability:
oraimo is committed to making cutting-edge audio technology accessible to everyone. The FreePods Lite is competitively priced at just INR 799 as the launch price, offering incredible value for the high-quality audio experience it provides.
The FreePods will be available on Flipkart for sale from 19th September 2023 backed with a 12-month warranty. The product will also be available for purchase from the authorized oraimo online platform (eclubstore.in) in three attractive colors Icelake Blue, Nebula Blue and Phantom Black.
TAGS: oraimo