AVer Announces 5-Year Warranty for Its Latest Pro AV Cameras and Matrix Tracking Box | TechTree.com
AVer Announces 5-Year Warranty for Its Latest Pro AV Cameras and Matrix Tracking Box
AVer Information Inc. introduces an unprecedented 5-year warranty for its latest Pro AV cameras and Matrix Tracking Box, reaffirming its commitment to quality and customer satisfaction.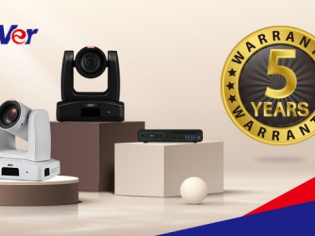 AVer Information Inc., an award-winning provider of education technology and Pro AV solutions, has introduced today an industry-leading 5-year warranty for its PTC300V2 and PTZ300V2 Series cameras as well as the MT300(N) Matrix Tracking Box. Already premium quality and ideal for a wide range of content capturing and creation, these innovative devices come with ultimate peace of mind for users who rely on them.
AVer understands that high-quality PTZ Cameras are a major investment—but the company is also confident that it offers the best devices on the market. That's why the internationally renowned Pro AV product developer extended its warranty to 5 years, ensuring users can count on their devices to deliver long-term.
The devices covered by this 5-year warranty can revolutionize content production in virtually every industry. Organizations in fields such as business, education, and entertainment have boosted their reach with the AVer Pro AV products covered by this new warranty, which offer the following features:
Smart functionality: AVer's auto tracking cameras deliver accurately follow presenters and content with the help of AI algorithms that make clumsy wearable devices obsolete.
Ultra clarity: These devices effortlessly livestream and capture all kinds of concerts, events, and educational presentations in up to 4K UHD.
Super-smooth imaging: Users can take their productions from amateur to professional with up to 60 fps imaging that's so smooth remote viewers may forget they aren't on-site.
Premium detail: Up to 30X optical zoom and 8-megapixel lenses capture incredible amounts of detail to enrapture audience.
Diverse connectivity: Devices in these series offer a wide range of convenient connection options —USB, HDMI, IP, and 3G-SDI.
Existing device integration: With the MT300(N)'s wide range of video inputs and outputs, users can leverage its multimedia capabilities to level up their streaming experience.
TAGS: AVer