Stay Connected in Style: the Reimagined Nokia 2660 Flip Phone now available in Pop Pink and Lush Green | TechTree.com
Stay Connected in Style: the Reimagined Nokia 2660 Flip Phone now available in Pop Pink and Lush Green
Nokia 2660 Flip Phone: Millions of Nokia feature phones sold monthly globally as consumers crave going back to basics
HMD Global, the home of Nokia phones, announces two all-new Nokia 2660 Flip phones in Pop Pink and Lush Green – the classic device has been reimagined in two new vibrant colours following a surge of interest in modern feature phones from Gen Z and Millennials who are choosing Flip phones to limit their smartphone screen time for their own mental well-being. Swap reel life for real life with the new Nokia 2660 Flip Phone.
As consumers look to digital detox, HMD Global, the maker of Nokia phones, reports its Flip phone market share doubling YOY (2021 vs 2022) and expects further growth in 2023 as people unplug from their smartphones in favour of reconnecting with their community.
Ravi Kunwar, Vice President- India & APAC, HMD Global: "The resurgence of interest in Flip phones underscores a growing desire to escape the relentless influx of digital notifications, social media updates, and the like. People are yearning for simplicity – more meaningful face-to-face interactions, uninterrupted conversations, and moments of reflection. We've all experienced instances where a precious life moment was overshadowed by a distracting notification. This is precisely why we're reintroducing the Nokia 2660 Flip to India, with a mission to restore these cherished and significant life moments."
The original Nokia 2660 Flip launched in 2007, and the first ever Nokia Flip phone launched in 1998. However, 25 years on from the first ever launch of a Nokia flip phone, consumers are looking to limit their screen time and reconnect with each other, themselves and their surroundings.
Designed with accessibility at heart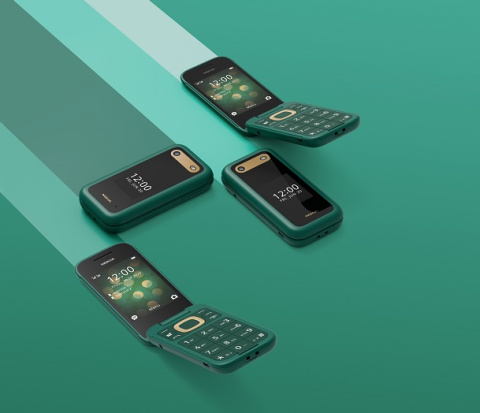 The all-new Nokia 2660 Flip Pop Pink and Lush Green have a beautiful and durable clamshell design which gives you the satisfaction of snapping the device shut once your task is complete. It also has a rear camera for lo-fi Y2K style pictures, battery for weeks, only SMS and calls which is great for a digital detox and of course the classic snake game.
The flip functionality of the Nokia 2660 Flip makes call handling simple by bringing the mic and earpiece closer to you. A generous 2.8" display and zoomed-in user interface mean you never waste time second guessing what is on the screen, whilst the convenient front display ensures incoming calls are easily recognized.
The big, tactile buttons make navigating seamless and texting error-free. Loud and crystal-clear sound settings make it easy to hear if someone is calling or texting.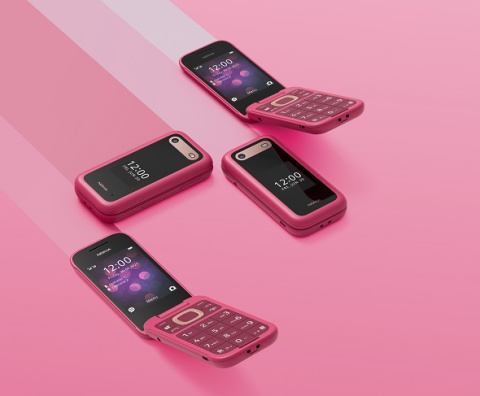 There when you need it the most
The slim and light flip-phone design contains a powerful 1450 mAh battery to deliver hours of talk time and weeks of standby, keeping you connected for longer and ensuring the people you care about are always within reach.
Meanwhile, the dedicated emergency button provides peace of mind by allowing quick contact with your loved ones. In case the unexpected happens, up to five contacts will be notified, so they can ensure help is on the way.
The Nokia 2660 Flip boasts clear call quality with adjustable volume settings and is hearing aid compatible (HAC) – making calls a relaxing experience.
Rigorously tested to last even longer
Put through its paces by renowned Nokia phone durability tests, Nokia 2660 Flip has endured tens of thousands of flip cycles to ensure it stands the test of time. Made of tough polycarbonate, so its stylish colours remain vibrant for longer.
Variants, pricing and availability
Nokia 2660 Flip phones will be available in India, at Amazon.com, and on Nokia.com/phones. The sale goes live on 24th August 2023, at 12:00 Pm on Amazon.
TAGS: Nokia