The all-new Nokia 110 4G and Nokia 110 2G, comes with UPI scan and pay facility | TechTree.com
The all-new Nokia 110 4G and Nokia 110 2G, comes with UPI scan and pay facility
Scan and Pay feature on Nokia 110 4G & Nokia 110 2G is here to make digital payment so convenient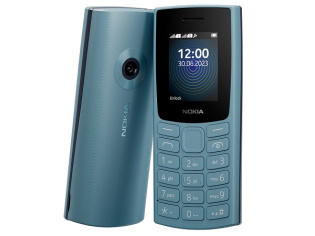 Built-in UPI payment App with scan and pay feature comes in a nano texture body
Wrapped in a premium modern design, giving you the luxurious touch feels
Beauty inside and out, Nokia 110 2G & Nokia 110 4G comes with SD card slot, MP3 Player, Wireless FM Radio starting at INR 1699
HMD Global, the home of Nokia phones, introduces two new Feature phones today - Nokia 110 4G and Nokia 110 2G, that redefines the way you communicate. Immerse yourself in luxury with its sleek and premium design, elevating every touch to a lavish experience. Say goodbye to unclear conversations, as Nokia 110 4G phone supports HD voice, delivering exceptional clarity for seamless communication.
But that's not all – we've taken convenience to the next level. With the all new Nokia 110 4G & Nokia 110 2G, you can now enjoy the ease of UPI payments right with just a press of a button . Say goodbye to cumbersome cash transactions and embrace the simplicity of Scan and Pay. This game-changing feature sets the Nokia 110 4G & Nokia 110 2G (2023) apart in the feature phone market, providing you with convenience. This innovative capability will bring vast numbers of feature phone users into the digital and payments ecosystem.
The new feature phone offers a new sleek design with the trusted build quality of Nokia phones blended in their signature style. It has a compact form factor for ease-of-use, an all-new modern finish, and it is packed with standout features like a built-in rear camera, SD card slot, music player and an auto call recorder with bigger storage. Capture precious moments with the built-in camera, and enjoy your favourite tunes on the go with the MP3 player and MicroSD card slot. The Nokia 110 4G is designed to keep up with your active lifestyle, featuring a long-lasting battery that ensures uninterrupted usage throughout the day.
Ravi Kunwar, Vice President, HMD Global: "Continuing our push to give the best phone experience with revolutionary features to our consumers , the Nokia 110 4G & Nokia 110 2G reinforces our leadership with its remarkable features.
With the inclusion of Scan & Pay UPI functionality in our feature phones, we are proud to empower feature phone users by enabling them to engage in secure and convenient digital transactions. Our goal is to ensure that users can effortlessly adapt to the changing times and embrace the convenience of modern digital payments. Get ready to experience a new level of empowerment and convenience with the Nokia 110 2023, as we redefine what a feature phone can do."
The Nokia 1102G & Nokia 110 4G (2023) comes with superior build quality, incorporating a sturdy 1000 & 1450 mAh battery respectively and expandable 32GB storage. With this feature phone you will be able to do much more without worrying about running out of power. With the new wireless FM Radio feature, you will be able to access news, music or sports through your favorite FM stations on the go without headsets.
Experience the power of seamless communication and effortless payments with the Nokia 110 2G & Nokia 110 4G. This feature phone is a true game-changer, offering a luxurious touch, crystal-clear conversations, and the convenience of the Scan & Pay UPI payments, all in one sleek device.
Variants, pricing and availability
The Nokia 110 4G will be available in two stylish colours Midnight Blue & Artic Purple. Nokia 110 2G will be available in two colours charcoal & Cloudy Bluein India, at retail stores, on Nokia.com/phones , and online partner stores.
The price for Nokia 110 4G (2023) will be INR 2499 and Nokia 110 2G (2023) will be INR 1699.
TAGS: Nokia