Vande Bharat: The Bullshit and Beyond | TechTree.com
Vande Bharat: The Bullshit and Beyond
When the social media noise around the cattle hit drowned out more important issues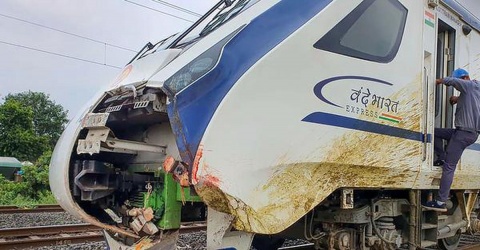 It took India two full decades to upgrade its electric locomotives, but less than a minute and some stray cattle to almost derail future plans around bringing back the joys of train travel with speed and comfort. Stray cattle getting hit by locomotives isn't new,
but the Vande Bharat Express train's tryst with cattle between Gandhinagar and Mumbai took on political hues.
Prime Minister Narendra Modi had inaugurated the Made in India locomotive and coaches on its maiden run on September 30 and there have been two incidents of cattle collisions. Railway Minister Ashwini Vaishnaw was nonchalant about the episodes, saying cattle grazing in India goes beyond boundaries and since tracks are laid on open ground, there aren't any.
However, amidst all the brouhaha over social media, what we missed is the technology that has gone into making these locomotives safer than at any time in India. For starters, these trains have a replaceable front section in the event of a collision. In addition, they are equipped with a host of new safety features.
The Vande Bharat 2.0 comes with "Kavach" (armor), a locally made security system that is made to the European Train Control System standards. But that's not all, the Railways removed all unmanned rail crossings in the country, which as some readers would recall, was the cause of several mishaps and loss of lives in the past.
Even the coaches have been modified to include anti-climbing features which minimize casualties in case of derailments or accidents by ensuring that coaches do not climb on to the ones in front. Coming to Kavach, this automatic train protection system is developed by the Research Design and Standards Organization with a 1 in 10,000 year error probability.
The system auto-protects against collisions where the brakes are auto-activated when the driver fails to control the locomotive as per speed restrictions. In addition, it activates central monitoring and has an automatic alert system in case of missing a signal, of approaching level crossings and auto braking when two trains are on the same track.
In fact, the team that developed Kavach held the view that in addition to making rail travels safer, it would also allow better track capacity at enhanced operational speeds. Of course, there is a caveat here. Till, the government is able to fund the transition of all existing locomotives with new age ones carrying the Kavach, real safety could still be a distant dream.
(Tags: rail safety, kavach
TAGS: Railways, kavach, rail safety