Apple Finally Cuts off all Ties with Intel | TechTree.com
Apple Finally Cuts off all Ties with Intel
The process began two years ago when the company announced its custom processor called the M1 for the Macbook lineup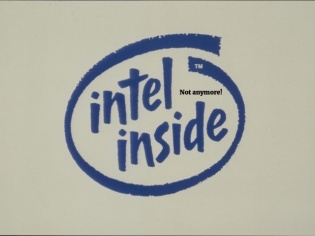 What began as an experiment back in the winter of 2020 has now resulted in the bifurcation of a partnership that was as old as the brand. A report by iFixit claims that starting with the M2 generation of MacBook Air and MacBook Pro laptops unveiled earlier this month, Apple would be removing all instances of Intel chips on its computing devices.
The company had started the journey back in November 2000 when it announced that a custom processor called the M1 would power its Mac lineup. Since then, Apple has consistently curtailed its association with the US-based chipmaker in terms of component supplies for its entire range of devices.
The report says that the last chip from Intel that found its way into an Apple laptop was the USB 4 retimer chip that extends connectivity and data transfer through external ports across a device's motherboard while also allowing the use of additional connectors. Now, this chip has been replaced by another though the vendor remains a mystery for now.
What to make of this development?
Apple watchers are not too keen to see more into this development but for the fact that the company had been facing supply chain issues and this move away from Intel could be yet another one made by Apple to meet delivery timelines without cost escalations. Apple and Intel, along with others like HP, Microsoft and Texas Instruments, promoted the USB 4 connectivity standard that helps achieve data transfer speeds and bandwidth of 40 GBPS.
However, there is no denying the fact that Intel has seen Apple move away considerably over the past two to three years. In early summer of 2019, Apple had announced a rapprochement with chipmaker Qualcomm over a lawsuit, after which the company began using their 5G modem on the iPhones. Readers would recall that prior to this development, Apple had partnered with Intel to build 5G chips for smartphones.
The deal was called off after multiple delays from Intel's side on the schedule of delivering these 5G chips. Around the same time when Apple and Qualcomm forgave each other, Intel announced that it was shutting down its 5G modem business, which Apple then went on to acquire for a billion dollars.
The company further reduced usage of Intel products post the M1 chip and over the past two years has steadily shifted its entire MacBook lineup and even some iPads to its custom-made M series processors. We wonder where that leaves Intel, given that it has just lost one of its biggest customers for microprocessors.
TAGS: Apple, Intel, Microprocessor