Lenovo's Upcoming ThinkStation is Smaller than an Xbox | TechTree.com
Lenovo's Upcoming ThinkStation is Smaller than an Xbox
The model sports a new 4L form factor with power driven from Intel's 12th gen Core i3 to i9 125W CPU options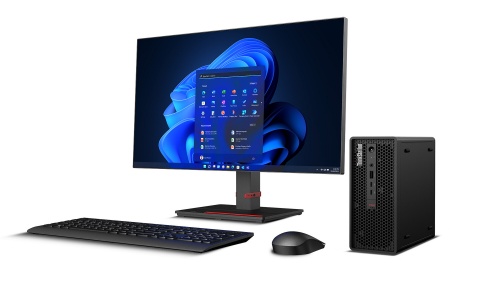 When IBM owned the Thinkpad, their laptops were about the same size as a school notebook for sixth graders. When Lenovo took over this division in 2005, we expected some robust pieces of hardware that didn't really care about the daintiness. However, that's not been the case over the past decade as the Chinese company is a preferred name in both laptops and desktops.
Having launched the ThinkStation P360 Tiny recently, Lenovo has now come up with a bigger version of the same with just the word Ultra replacing Tiny. The model sports a new 4L form factor with power driven from Intel's 12th gen Core i3 to i9 125W CPU options. It has the Nvidia RTX A2000 to A5000 graphics option and up to 128G of DDR5 RAM and 8GB of storage.
Now, you may think that with these sorts of specs, the immediate expectations would be a box that's too big to appear pretty. However, Lenovo has managed to fit all these components into a case that's probably smaller than the Xbox Series X. A report published by DigitalTrends says the desktop occupies 4 litres of volume as against nearly 7 litres of the gaming console.
What it means is that Lenovo might just have managed to create the fastest desktop computing device with the smallest form factor. The company reportedly worked with Intel and Nvidia to design the ThinkStation P360 Ultra but the fact remains that when the form factor goes small, it becomes well nigh impossible to use the top-end and high-energy consuming parts.
The highest-end configuration does have a Core i9-12900K and an RTX A5000, but the 12900K is limited to 125 watts (down from the usual 241W) and the A5000 is actually the mobile version, which has significantly less cores and half the memory of the desktop RTX A5000 24GB, says the report in DigitalTrends.
Lenovo has also considered the fact that packing so much power and speed could result in the PC hotting up. In order to keep things cool, the ThinkStation P360 Ultra gets a motherboard that sits at the center of the chassis, which also means ease of upgrade at a future date.
However, from a hardware point of view, things could get nippy though it still may not have the pace that the ThinkStation P620 has. The Pc comes with two Thunderbolt 4 ports, and 2.5 Gigabit Ethernet. It promises over 50% faster performance than previous generation SFF desktops and it could also be the first among desktops to carry ethernet and Thunderbolt 4.
For now, there is no information about when the device is expected to arrive in the Indian market. The device launches in western markets next month and is priced at $1,299.
TAGS: Lenovo, ThinkStation P360 Ultra