Sony Bets Big on Three New Smartphones | TechTree.com
Sony Bets Big on Three New Smartphones
The company now seems to be playing the 5G game and selling entertainment and cameras rather than a phone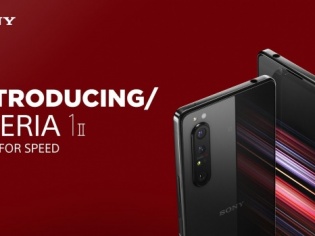 The MWC may have gotten cancelled due to the coronavirus scare. Sony's mobile phone division may still be operating at a loss. But, that does not stop smartphone makers from showcasing three brand new devices that includes a new flagship, a pro-level device that offers 5G and another one in the mid-that may just add to the noise.
Though the company's pedigree is unbeatable in televisions, cameras and sound devices, Sony seems to have taken the smartphone battle quite seriously, though there is little to suggest at this juncture that it can make its presence felt, let alone win a game that has the Galaxy and Pixel on one side and a battery of Chinese makes on the other.
Maybe, that's why Sony has tried to be different this time round. Their new flagship is called the Xperia I II (the second of the two Roman numerals standing for Mark-2), which is definitely unique in spite of being confusing.
And now the company appears to be borrowing aspects of their bread-and-butter business to make their smartphone journey more successful. For starters, they are harping on Sony's extensive content portfolio as a differentiator in a 5G-enabled world and they're combining their expertise in display and imaging to make the device a photographer's delight.
The Xperia 1 Mark II boasts of a 20-fps auto-focus camera on top of a 21:9 6.5-inch 4K OLED HDR display, Dolby Atmos and a 5G modem – all ideally suited to an entertainment device that also has the ability to make and receive calls. And, that's not all – it has intelligent eye tracking and smart animal eye-tracking to boot.
From a hardware point of view, the triple-camera setup comes with a 12-MP Carl Zeiss lenses with anti-reflective coating, a 24-mm f/1.7 lens with an 82-degree viewing field, a 70-mm f/2.4 lens with a 34-degree view field and a 16-mm f/2.2 lens with a 124-degree view field. A fourth sensor at the back and 3D unit adds to the zoom with an 8-MP selfie lens up front.
And their reasons for packing it in is quite simple. "No one understands entertainment experience better than Sony," says Mitsuya Kishida, President of Sony's Mobile Communications division adding whether one is a broadcast professional needing dynamic speed or an everyday user, the Xperia with 5G takes mobile experience to the next level.
It doesn't end there. Kishida pitched the ultrafast low-light autofocus claiming that it supports 20-fps autofocus and auto-tracking burst which enables top notch action shots. "Our new continuous auto focus keeps tracking moving subjects. What's special about this is with 20fps it calculates the object 3x per frame — that's 60x per second — capturing the very moment."
He goes on to suggest that the power and speed of 5G would enable users to share the moments captured more quickly across the network. Ahem! Isn't it shared fast enough on the 4G networks itself? Also, if the action shots are what Sony wants to pitch as the USP of the phone, what would happen to their range of cameras?
Sony also spares no effort to let us know that the Xperia 1 II sounds good on the ears too and comes with a headphone jack (did they have a choice though as they need to sell their top-quality headphones too, isn't it?). There is a 360-degree spatial audio and front-facing stereo speakers. Kishida let the world know that Sony would be using AI technology called DSEE Ultimate that can enhance sounds to "near high resolution audio" even when streaming.
As for the hardware, the Xperia 1 II comes with the latest Qualcomm Snapdragon 865 5G SoC that's paired with 8GB of RAM and 256 GB of storage with dual nano SIMs. There's also a micro SD card slot of up to 1TB since the device is being pitched as a camera for the professional photographers and aspirants. The 4000 mAh battery though seems underwhelming amidst this configuration, though Sony says it would be enough and more.
There's still no clear indication of when the new phone or the other two that haven't exactly been showcased, will ship or what the price points would be. In the past, Sony came with great phones that lost the price war due to intense competition from the Galaxy and Pixel on the one hand and the Chinese phones on the other.
Can Sony make a dent in the market? Or would it end up making some more noise in the already crowded space? Only time will tell.
TAGS: Sony, Xperia 1 II, Smartphones, Qualcomm