Privacy Body Petitions Sundar Pichai Over Android Bloatware | TechTree.com
Privacy Body Petitions Sundar Pichai Over Android Bloatware
Over 50 enterprises have expressed concern over smartphone vendors shipping devices with apps that cannot be removed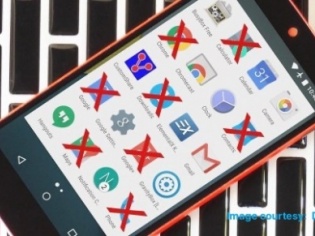 When it comes to bloatware or unwanted stuff on a mobile or a computer, Google has always faced the ire of users, given the number of such pre-installed stuff that one finds on Android-powered devices. It looks like now even enterprises have had enough of these unwelcome applications as they've petitioned company boss Sundar Pichai about it.
In an open letter signed by more than 50 organizations have submitted a letter to the Alphabet CEO asking Google to act against exploitative pre-installed software on Android devices. "These phones carry the "Google Play Protect" branding, but research shows that 91% of pre-installed apps do not appear in Google Play – Google's app store," it says.
"These pre-installed apps can have privileged custom permissions that let them operate outside the Android security model," the letter further says adding that this bloatware has a detrimental effect on user privacy as many cannot be deleted and leave users exposed to having their data collected by unscrupulous phone vendors and app makers without consent.
Since these apps are pre-installed and can't be deleted as system apps, they can have more advanced permissions than a typical app. In that case, they might leave more privacy loopholes that the end-user isn't even aware of, the letter says asking Google to make some urgent changes around this bloatware.
It says users should be allowed to fully delete any pre-installed apps on their devises and that Google should ensure that these apps should adhere to the same level of scrutiny as Play Store apps and most importantly they should have some update mechanism that doesn't require an account and that Google should refuse to certify devices with privacy concerns.
"Android Partners – who use the Android trademark and branding – are manufacturing devices that contain pre-installed apps that cannot be deleted (often known as "bloatware"), which can leave users vulnerable to their data being collected, shared and exposed without their knowledge or consent… We, the undersigned, believe these fair and reasonable changes would make a huge difference to millions of people around the world who should not have to trade their privacy and security for access to a smartphone," it says.
Meanwhile, Google itself has announced that the threat from Bread, a large-scale billing fraud family on its blog. It says developers of this malware often three or more active variants to target different carriers, submitting up to 23 different apps to Play Store in a single day for verification. Of course, other than the note that "Google Play Protect is constantly updating detection engines and warning users of malicious apps," the blog post says nothing else about how the company plans to protect data privacy in the coming months and years.
With Android now officially available for all Pixel devices, Google has taken several privacy focused measures on the Android-10 but is it enough to keep unscrupulous phone makers, especially from the Chinese stables, to stay away from the data mine that smartphone represents in this era of chasing information for analytics and artificial intelligence?
By the way, there is not a single organization from India that has joined issues with the rest of the world on Android's bloatware. Maybe, we as a country don't really care about our data or what unscrupulous enterprises can do with it. Of course, Privacy International, which has piloted the venture leaves a link where others too can join.
TAGS: Android, Bloatware, Apps, Data Security, Sundar Pichai