Xiaomi Black Shark To Offer 16 GB of RAM? | TechTree.com
Xiaomi Black Shark To Offer 16 GB of RAM?
At least that's what social media says claiming that the next in line from the Chinese manufacturer has already received approval from Chinese authorities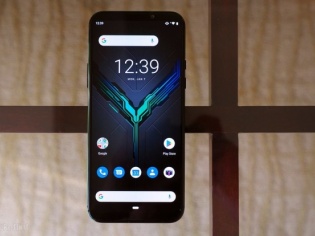 Imagine your smartphone having more processing juice than your laptop? Well, looks like science fiction is coming to life now with Chinese gadget maker Xiaomi reportedly launching the third in its Black Shark series with a whopping 16GB of RAM and with 5G capability that could make it just the device that multi-tasking gamers would want.
Rumour has it that the Xiaomi device would be just the sort of advancement that gamers would love in the 5G era where streaming videos and music would become passé, given that the networks would be between 10 to 100 times faster. Looks like Xiaomi is setting the trend with faster processing power that is a pre-requisite for using high data speeds.
The reports published in GizChina.com quotes from the Twitter handle of Sudhanshu, who professes to be a teenaged technophile, to suggest that the device has already received certification from China's Ministry of Industry and Information Technology. The leak is purportedly come from the Ministry's website itself.
The data reportedly depicts the handset with model number Shark KLE-AO and speculation is based on the name of the device in the listing. There is hardly any data around the device on the website though enough is available to suggest that it could be launched later this year with a 6.4-inch FHD+ display with resolutions far superior to its predecessor.
However, what makes the new device stand out is the 16 GB of RAM where other smartphone makers are struggling to manage 12GB in their handsets. It remains to be seen how pricey the model could get, given that its predecessor Black Shark 2 Pro comes for a cool $699 as per data available with the company's global store.
Experts are speculating that the upgraded version of Xiaomi's phone could come with an 855+ processor with a battery that could be at or around the 4000mAh mark. And, if they manage to add faster charging technology and a few other bells and whistles, the device could well become the favourite of gamers.
TAGS: Xiaomi, Black Shark, 16GB RAM