Sony Surprises Many by Unveiling an Electric Car | TechTree.com
Sony Surprises Many by Unveiling an Electric Car
The company has been talking about its mobility efforts but not too many at the CES 2020 expected the Japanese electronics giant to actually showcase an automobile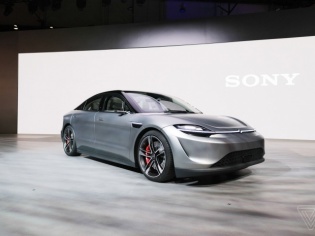 Sony unveiled an electric concept car at the CES amidst reports that the company plans to test its mobility efforts called the Vision-S initiative that some believe could eventually lead to attempting self-driving cars in the near future.
In a statement published on the Sony website, the company says that the car was part of their efforts to showcase automotive technologies developed over the recent past when Sony teamed up with several companies such as Bosch, Qualcomm and NVIDIA to create the prototype sedan.
"Sony's efforts in the area of mobility - such as pursuing safety, reliability, comfort and entertainment - are being positioned as a new initiative, named "VISION-S." This prototype incorporates Sony's imaging and sensing technologies, as well as on-board software regulated using Sony's AI, telecommunication and cloud technologies, in order to continuously update and evolve its features," it said in the statement.
The company said that a total of 33 sensors including CMOS image sensors and ToF sensors are embedded in the vehicle to detect and recognise people and objects within and outside the car that would provide highly advanced driving support. In addition, the 360 Reality Audio is rendered through speakers built into each seat.
"The front seats face a panoramic screen on which rich and diverse content can be enjoyed through an intuitive user interface. Sony will continue to combine its advanced technologies to deliver greater safety and reliability, while also striving to inspire new emotion through revolutionary in-car entertainment experiences," it says.
Though the car is still only at a prototype stage, Sony had a spec sheet that termed it as a four-seater with two 200KW engines that could get us from 0-96 kilometres within just 4.8 seconds and boasts of a top speed of 240 kilometres an hour.