CES 2020: Technology That's All Set to Disrupt | TechTree.com
CES 2020: Technology That's All Set to Disrupt
A look at some of the gadgets and gizmos that could wow visitors during the world's biggest tech show that gets underway at Las Vegas today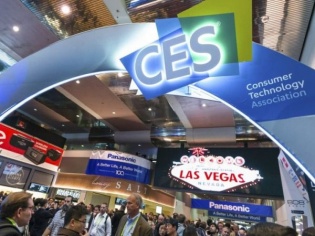 For ten long years CES has been home to smart technology and smarter presentations that got people glued to innovations across wide areas of home and office functions. Some worked like a charm while others silently went off the radar with quite a few products actually returning rejuvenated year after year with new features and smarter moves.
In this article, we will keep you posted on some of the innovations that companies are showcasing at this year's tech show:
Korean major LG used their time with the media to reveal details about their Real 8K televisions and rollable 4K OLED Televisions that rolls into an aluminum like a paper towel. In addition, they are showcasing the ultrathin wallpaper TVs. What was more interesting was the company's use of AI to actually get one's home appliance reach out to you about needing service attention. Called the LG Proactive Customer Care, the service rolls out immediately with officials stating that it would reach a million customers within a year. LG also came out with washing machines that use AI to keep cloths protected.
Sony too had their share of 8K screens lined up for launch though their focus appeared to be on sound more than on the visuals. Their new series bring an ambient optimization feature that fine-tunes the picture and sound to suit the viewing space. There is an acoustic audio calibration feature that delivers sound to its full potential during the set-up process. Besides visual upgrades, the televisions also upgraded software to Android 9 Pie besides Google Assistant voice control features in select models.
Samsung has started the event by announcing called Ballie, a personal care robot, several smart home products and a new pair of AR workout glasses called GEMS (Gait Enhancing and Motivating System) in its CES 2020 keynote. There's also bezel-less 8K TV from Samsung at CES this year, along with rotating TV. The Sero TV, which was until now available in South Korea, will come to major international markets in 2020. The South Korean giant also reveals its smart cities vision and explains that smart cities combined with 5G, edge computing and AI can transform the urban transportation experience. The company says that its vision is to lead the new era of vehicles, with 5G-technology enabling Vehicle-to-Everything communication, which will seamlessly connect cars to the rest of the city.
Lenovo took the stage to introduce the Lenovo Smart Frame, second-gen Lenovo Smart Tab M10, and Lenovo Connected Home Security. Lenovo has announced new laptops, including a foldable one which is also 5G ready. The special limited-edition Lenovo Ducati 5 Windows 10 laptop comes with a 14-inch Full HD IPS screen and claims up to 12 hours of battery life with support for Rapid Charge. Lenovo also brings its Connected Home Security solution that aims to protect the smart home devices from unwanted intrusions and malicious hackers. Lenovo Connected Home Security alerts free and paid users in almost real-time to potential security vulnerabilities– such as online hacking and phishing attacks. Lenovo Smart Frame is a digital photo frame that comes with a built-in AI that automatically composes your photos into digital collages.
Intel showed off its upcoming Xe GPU platform that it plans to integrate with its upcoming Tiger Lake processors that will come out later this year. The chip major also displayed its first discrete graphics card - DGI running Destiny 2. The company showed a Tiger Lake-equipped notebook running Warframe. Users will be able to play "HD" games without issue. Additionally, Intel showed the GPU upscaling an old, low-resolution image using an AI-accelerated processor. The "Horseshoe Bend" foldable display tablet Intel showed off at the keynote had a Tiger Lake processor and integrated Xe GPU.
Asus announced a slew of new PC hardware as part of CES 2020. Many of the devices target hardcore PC gamers. As part of its popular ROG (Republic of Gamers) brand, Asus announced the ROG Zephyrus G14 and Zephyrus G15 gaming laptops, where it has managed to pack in some high-end hardware inside these thin laptop designs. The Zephyrus G14 even includes a special CPU that is supposed to create less heat than normal laptop gaming processors. The Zephyrus G15 has the new AMD Ryzen 7 4800HS mobile APU inside. Asus also announced the ROG Swift 360Hz monitor - a first of its kind - that comes equipped with a 24.5-inch screen with full HD resolution and is perfect for amateur and pro eSports players. In addition to the ROG brand, Asus is introducing new products from its more affordable TUF gaming brand - The 15-inch TUF Gaming A15 and F15 laptops and the 17-inch A17 and F17 models. Both laptops will support up to 32GB of RAM and up to 1TB of SDD storage.
NVIDIA's CES 2020 lineup features gaming hardware and software, but the company is also displaying its commitment to GPU-driven AI tools for autonomous vehicles and robots. The two major attractions of the event from NVIDIA's kitty include NVIDIA Isaac, its robotics development platform, and DRIVE AGX Orin, the latest component of NVIDIA's software-defined automated vehicle (AV) platform. Several Isaac-powered robots are on display at CES 2020, including an autonomous wheelchair, a flying home security drone, the Toyota T-HR3 humanoid partner robot, among others.
Google:

Unlike several other massive brands, Google didn't bring any new hardware at CES 2020, but it still got a big presence there. Most of its announcements were focused around the company's voice-powered AI helper, Google Assistant. Google claims that its virtual assistant helps 500 million monthly users and is on over a billion devices. With new updates to its Assistants, Android users will soon be able to say "Hey Google, read this page" and Assistant will generously read out the relevant text from the page. Also, if you have any devices in your home that are compatible with Google Assistant - say a microwave, TV or smart plug, you can use a new feature called Scheduled Actions to control it. You'll be able to say things like: "Hey, Google, start the coffee-maker at 6 a.m." or "Hey, Google, turn on the robot vacuum cleaner at 4 p.m." Google also announced household Notes, like digital Post-It Notes for a smart display. You'll simply say, "OK, Google, leave a note. I already fed the cat" to create the sticky note. Google introduced two new voice actions to increase privacy control at CES: "Hey Google, that wasn't for you" lets the Assistant know it should delete what it just heard when it is activated accidentally, and "Hey Google, are you saving my audio data?" will give you a rundown of your current privacy controls. The company said, in 2020, Google Assistant will be compatible with smarter devices, speakers, televisions and more cars.
Keep watching this space… We will keep you updated on more exciting news and updates from CES 2020
TAGS: Asus, Intel, Lenovo, NVIDIA, Samsung, Sony, LG, CES 2020