Facebook Seeks to Narrow Down Friendships | TechTree.com
Facebook Seeks to Narrow Down Friendships
The company is reportedly borrowing Instagram's feature that allows sharing of content between a closed unit group of friends with guaranteed privacy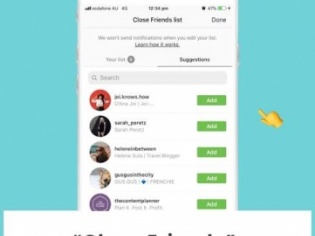 Tired of battling privacy issues that is probably causing several million users on Facebook to be wary of sharing content online, the social media giant is getting ready to port over one of the features from its Instagram acquisition to ensure that users get to create a core group of friends who remain isolated from the rest of their connections.
What's more, they didn't really have to work from grounds-up to ensure a solution that makes sharing more private. Facebook simply borrowed Instagram's Close Friends feature and is reportedly customizing it so that users can differentiate their friends into closed-user-groups whereby one's uncle or grandma doesn't need to be part of office gossip and vice-versa.
In spite of sustained efforts in the past, the company found it tough to create silos between groups of friends that a user might accumulate over a period of several years. In fact, Facebook did try to get users to create different lists of friends for posting different types of content on the chosen network but sadly nothing appeared to work, leading to people getting wary of posting.
Josh Constine, writing for TechCrunch.com revealed that several at the turn of this decade, Facebook had revealed that users hadn't made a single list which made the company try out auto-grouping people using the Smart Lists feature whereby one could isolate classmates from school from colleagues or residents of the same apartment complex. However, nothing worked.
The Close Friends privacy feature of Instagram allows users to share stories with only a select group of followers that includes close friends or family. "Sometimes what you want to share isn't for everyone. With Close Friends, you have the flexibility to share more personal moments with a smaller group that you choose," Instagram had said during launch a year ago.
Now, Jane Manchun Wong, a geek who works on reverse-engineering apps for hidden features and security vulnerabilities announced via her Twitter handle that Facebook Messenger was testing Favorites List for stories that would work pretty much on the lines of Close Friends.
Explaining the process, Constine says that Facebook's Favorites would let users designate some friends as favorites and immediately begin sending them their stories or what is essentially their camera-based posts from Messenger to just those people. Wong, who found the code while testing out the Android app, which can share a camera post from Messenger and instantly send it over chat with everyone on their Favorites list.
The users can also edit who is on that list and add up to 10 people manually or via suggestions provided by Facebook through its algorithms. At this moment Favorites doesn't allow sharing stories like Instagram Close Friends does but this functionality should be very much part of the experiment, if one were to go by the manner in which Facebook has begun testing in right earnest.
Constine quotes an unnamed Facebook spokesperson to confirm that the prototype was created by the Messenger team and that it was part of the company's early exploration of the micro-sharing opportunity. The feature is perceived to be a shortcut for sharing to a specific set of people and is part of the company's efforts to get people to share more and ensure that when they do share, it is done within specific groups and not to the world at large.
If and when the feature gets launched, Facebook would be hoping that users would find it easier to share more while making it visible only to the groups that it is intended for. Such a step also ensures that users don't crib about over-posting as they'd get to see only what they need to. There could be more intimate content getting shared that allows Facebook to keep tabs and then share advertisements in a more customized fashion.
Of course, the who idea seems to stem from Mark Zuckerberg's newly acquired idea of privacy where he had blogged that "Many people prefer the intimacy of communicating one-on-one or with just a few friends."
Looks like it took several legal wrangles to help Zuckerberg realize that true sharing is only between the truest of friends!
TAGS: Facebook, instagram, Sharing, Close Friends, Favorites, App, Messenger