Lenovo Announces The World's First 'Foldable PC' | TechTree.com
Lenovo Announces The World's First 'Foldable PC'
Lenovo Unveils Preview of the World's First Foldable PC in ThinkPad X1 Family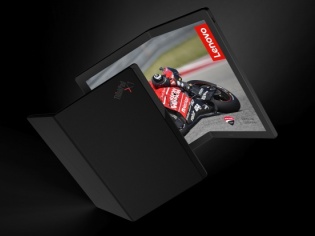 Lenovo has just announced a preview of its upcoming foldable laptop in the Thinkpad X1 series - what it calls the world's first "foldable PC." It is a prototype ThinkPad that Lenovo says is slated for release in 2020.
The foldable laptop was previewed at Accelerate, where Lenovo says that the prototype is not of a phone or tablet, or a hybrid, but of a full-fledged laptop with a foldable screen. The photos reveal that the PC folds out into a larger two-sided display, with one side working as a touchscreen keyboard.
The display folds into a larger big screen as well, that can also be used as a touch screen device, and you can connect a physical keyboard to it separately. The laptop display stays active at many angles of folding, including the 90 degree. Lenovo hasn't revealed the specifications of the laptop, or even its final name for that matter. It just says that the laptop will be a part of the ThinkPad X1 series.
This space-saving ThinkPad combines laptop productivity with smartphone portability. Made for highly mobile, tech-savvy professionals who demand the best tools, the new foldable PC joins the premium ThinkPad X1 family, promising that the unprecedented portability will in no way compromise productivity and reliability. As Lenovo mentions in the official release, "This is not a phone, tablet, or familiar hybrid; this is a full-fledged laptop with a foldable screen."
TAGS: Lenovo