Caviar Unveils iPhone X With Solar Back Panel | TechTree.com
Caviar Unveils iPhone X With Solar Back Panel
The Solar Back Panel variant is expected to be priced more than $ 4,400!
iPhone X has become the talk-of-the-town and we all know it. However, here's something more interesting; the Russian company that creates customized iPhone with golden plaques of Donald Trump and Vladimir Putin has unveiled its take on the new iPhone X. The result is the iPhone X Tesla with a solar panel on its back. To recall, the company had launched a meteorite-coated iPhone X in September.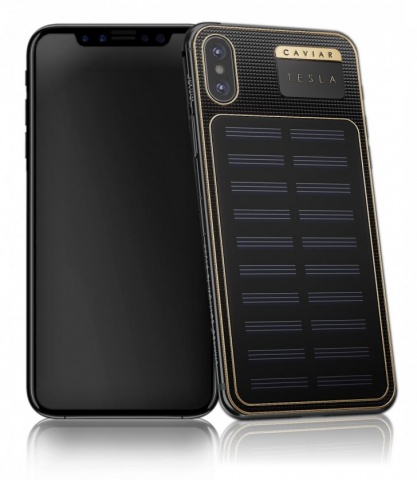 Speaking about this modified iPhone X model by Caviar, the smartphone, if placed with its front screen facing download, is capable of charging itself up with the help of the solar panel that gather energy from the sunlight. According to GSMArena, the iPhone X Tesla comes with a PVD coating and shockproof plate. However, you can also see a golden plate next to the camera setup, and we simply do not know a valid reason for that yet!
The modified iPhone X also comes with a titanium body instead of a glass body that can be found on the original iPhone X variant. It also comes with a 24K gold rims covering the backside edges of the iPhone.
Lastly, it is worth noting that the smartphone is expected to be priced around $ 4,445 for the 64 GB variant and $ 4,700 for thte 256 GB model. This reflects to around Rs 2.8 Lacs and Rs 3 Lacs respectively.
TAGS: Apple iPhone, iPhone X