HTC Vive Now Available On Amazon India | TechTree.com
HTC Vive Now Available On Amazon India
The complete VR system comes with a price tag of Rs 92,990, which is definitely not cheap for most tech enthusiasts.
HTC has finally announced the launch of its virtual reality system, the HTC Vive, claiming it as the first complete VR system available in the India market. The Vive will be sold exclusively on Amazon.in with pre-order having started from April 22.
A recent press release also mentions that the website www.vive.com/in will go live by April 25, 2017, and will soon be available for an in-store experience across select locations in India. These select locations will be equipped with an interactive Vive demonstration station, fully open to the public for individual sessions to experience a variety of virtual reality content supported by the platform.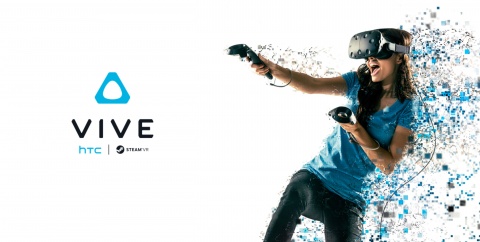 Faisal Siddiqui, President-South Asia, HTC commented: "We are delighted to launch Vive in India. Vive has totally transformed the way we interact with the world, bringing ultimate mainstream experience to the consumer. Now consumers and developers can experience immersive virtual reality in a way that reshapes human imagination beyond boundaries."
While the VR system sounds definitely exciting, its price tag of Rs 92,990 may sound a huge turn off to many enthusiasts. However, for the price, users would be getting wireless VR controllers, room scale movement, and Head Mounted Display featuring a built in camera.
The press release further mentions that, as part of the launch offer, Indian consumers will be able to enjoy free shipping when they order Vive from Amazon.in as well as two fully-fledged VR experiences:
Everest VR: Experience what it feels like to climb Mount Everest through a sequence of immersive first person locations as you strive to reach the top of the world. Incomparable visual fidelity combined with player agency in a VR journey that feels both real and emotionally stunning
Richie's Plank Experience: Are you afraid of heights? Take an elevator to our plank that sits 80 stories high above the ground, then dare to walk to the end! An experience made for first-time VR users. Plus, customize the settings to add a physical plank to your playing space.
TAGS: HTC