CES 2017: Razer Unleashes A Three-Headed Monster Laptop Called Project Valerie | TechTree.com
CES 2017: Razer Unleashes A Three-Headed Monster Laptop Called Project Valerie
The machine is a dream come true for gamers and creative professionals.
Razer, the American gaming hardware company has unveiled a unique laptop with three screens. Dubbed Project Valerie, the system is still in its concept stage. It boasts of three 17.3-inch 4K IGZO screens. Project Valerie neat deployment mechanism that slides out screens in their right place.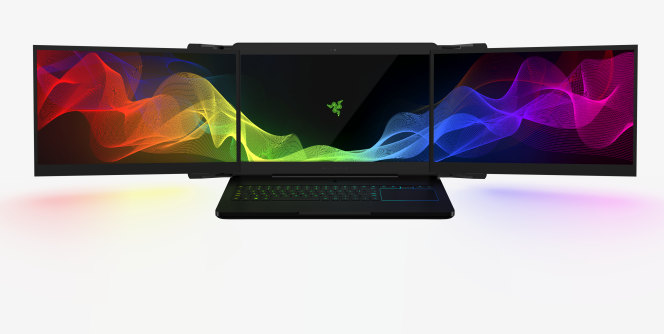 The laptop is made of a CNC milled aluminium unibody. To support the 180-degree viewing area, Razer uses Nvidia's Surround View technology, which spreads a single image across three monitors. Apart from offering immersive gaming experience, the rig is also ideal for creative professionals. Especially, those into video editing are going to love this laptop. Keeping them in mind, Razer has pre-calibrated the screens with 100 percent Adobe RGB colour accuracy.



The Project Valerie is as powerful as the new 17-inch Razer Blade Pro. So you can expect the 6th-gen Intel quad-core i7 processor and 32 GB RAM. To handle complex tasks, it packs-in a desktop grade Nvidia GeForce GTX 1080 graphics card. To please the gamers, the Razer has thrown-in a mechanical keyboard. The machine meets the requirements of VR (Virtual Reality) platforms such as HTC Vive and Oculus Rift.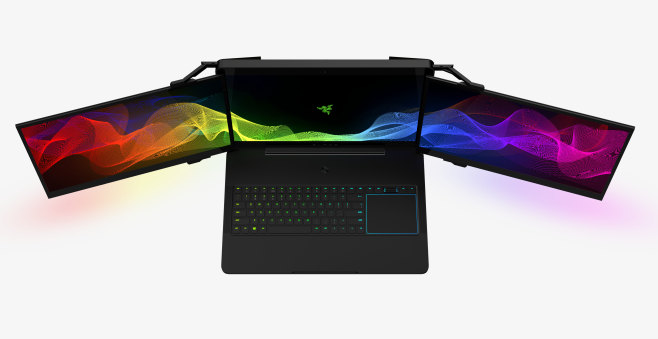 All this power comes at the expense of portability though. The machines is 1.5-inches thick and weighs over 5 kg. As mentioned earlier, the laptop hasn't reached the production stage yet, so there's no word on its pricing and availability.