Samsung Unveils A Mac Pro "Inspired" ArtePC Pulse | TechTree.com
Samsung Unveils A Mac Pro "Inspired" ArtePC Pulse
The cylindrical PC packs in 6th gen Core i5 and i7 processors.
Samsung has already faced allegations from Apple for copying its iPhone. The court too has agreed with the Redmond-based brand and slapped a $1 billion penalty on Samsung. This, however, hasn't deterred the South Korean giant from drawing "inspiration" from Apple's Mac Pro for its desktop PC. Dubbed as the ArtPC Pulse, Samsung's PC sports a cylindrical metal body. Improving upon Apple's scheme, the ArtPC offers easy-to-add modules. The PC has a fancy ambient light embedded within the circular design. Apart from enhancing the aesthetics, the LED ring is used for notifications. For instance, the ArtPC Pulse will blink in a certain colour if you receive a new email, social media chat message, or social media update.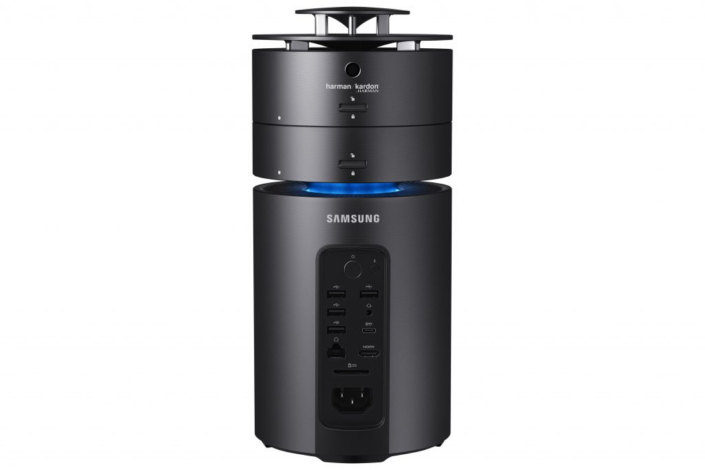 The ArtePC Pulse is a foot tall and is 5.5-inch wide. Inside the compact package, you get a 6th generation Intel Core i5 or i7 processor, AMD Radeon RX460 GPU, up to 16GB of memory, and a 1 HDD module. Plus, there's a 256 GB SSD for faster load times and performance. The PC also packs-in a 360 speaker Harman/Kardon. The Core i7 model comes with an additional 1 TB HDD storage module. In terms of ports, you get four USB 3.0, a USB Type-C and, HDMI. The ArtPC Pulse also ships with a wireless keyboard and mouse. As of this writing, Samsung hasn't shed a light on device's pricing and availability.