Windows 10 Gets Anniversary Update | TechTree.com
Windows 10 Gets Anniversary Update
Powerful web browsing, Cortana, and Pen support are some of the new features for better user experience.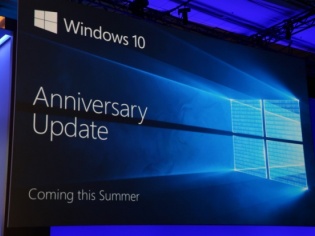 If your desktop is running on Windows 10, here's a good news for you. Microsoft has finally rolled out the much awaited Windows 10 anniversary update. Desktop users will be getting the update in stages, and newer computers will be having more chances of getting it quicker. One can also update the system manually, in case staying behind the curve is not done.
The new update would bring with it, better Cortana voice command function including app controls, better pen input with dedicated interface, and a superior version of the Edge browser.
However, if you are looking to update your Windows 10 smartphone, you will have to wait in line for a bit more time. Redmond based Microsoft has announced that the update for handsets will be out 'in the coming weeks', though a big rush isn't something on the cards.
According to Engadget, the Windows 10 Mobile release will get some desktop features such as cross-platform Cortana syncing, as well as interface tweaks like more active Live Tiles and swipe-based browser navigation.
Also, as per details available on The Verge, the update brings an added panorama option to the Windows Camera app, and a refurbished lock screen such that, the on-screen back button on devices without hardware buttons gets replaced with a camera button. This would enable users to capture pictures quickly.
In addition to this, the update would bring in a new Skype app for Windows 10 Mobile, which is actually the same universal app that comes with Windows 10 Desktop Edition. Along with this, users will get tweaked icons on the 'Settings' app, media controls to the lock screen, and a new Microsoft Wallet app.
Image via Tech Crunch
TAGS: Windows 10, Windows Anniversary