Dell Unveils Inspiron 3000 and 5000 2-In-1 Notebooks In India | TechTree.com
Dell Unveils Inspiron 3000 and 5000 2-In-1 Notebooks In India
Dell Inspiron 11 3000 Series 2-in-1 is priced starting Rs. 32,690, Dell Inspiron 13 5000 Series 2-in-1 is priced starting Rs. 49,490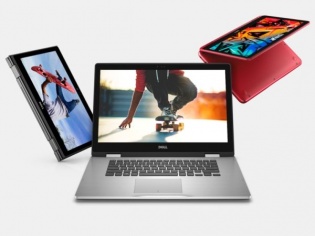 Dell on Tuesday unveiled its new range of
Inspiron
2-in-1 notebooks in India. The Dell
Inspiron
11 3000 Series 2-in-1 is priced starting
Rs
. 32,690, while the Dell
Inspiron
13 5000 Series 2-in-1 is priced starting
Rs
. 49,490. The company had earlier unveiled these products at
Computex
2016 in May which include the
Inspiron
3000 and 5000 series with the 7000 series arriving at a later period.
The new Dell Inspiron 3000 2-in-1 series includes an 11-inch notebook while the Inspiron 5000 2-in-1 series includes a 13-inch and 15-inch model. With prices starting at Rs 32,690, both laptop series offer touchscreen displays and can be folded into tablet mode.
The Inspiron 5000 Series 2-in-1 laptops comes loaded with a bunch of features including high quality-sound, backlit keyboard, and infrared camera for Windows Hello facial recognition. The 13-inch and the 15-inch variants can be configured with up to 6th-gen Intel Core i7 processor, wide-angled full HD display, 8GB DDR4 RAM and offer up to 9 hours of battery life.
The Dell Inspiron 11 3000 is a more compact option that was announced which will come in a configuration of either a quad core Intel Pentium or latest 6th-gen Intel Core m3 processor. The laptop also features an 11.6-inch display with a 1366×768 resolution, 4GB of RAM and 500GB as standard storage options and a battery life of close to 8 hours. The Inspiron 11 3000 will come in Bali Blue and Tango Red colour variants with pricing starting at Rs 32,690.
Alen Jose, Product Marketing Director, Consumer and Small Business, Dell India said, "The dynamics of computing in today's world is changing rapidly with users being more informed and selective about devices that cater to both professional and personal needs. The 2-in-1 form factor has been the winning choice, indicating that users desire a single device for all their computing requirements, be it content creation or consumption. The all new Inspiron 3000 & 5000 2-in-1 devices are available with a wide range of processor options and configurable features, enabling students, families and users looking for great value to connect, learn and achieve more."