Is Microsoft Getting Back To Hardware Business? | TechTree.com
Is Microsoft Getting Back To Hardware Business?
In addition to the line of tablets and laptops, Redmond is reportedly designing an all-in-one under the Surface brand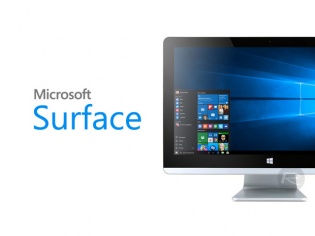 At a time when PC sales have been declining each quarter, Microsoft appears to be all set to spring a surprise by deciding to expand its bouquet of offerings in the hardware business. After the Surface Pro range of tablets and the Surface Book laptop series, reports are rife that a Surface all-in-one (AIO) is now ready.
A report published on Windows Central late last week said the company was getting an AIO under the Surface brand though the launch dates have not been specified as yet. The new desktop, which would run on Windows 10, is being positioned for the living room, the report says (Read it here).
While Satya Nadella and his team appears to be quite kicked about the Surface brand of products, the markets appear to be suggesting something else. First quarter (of 2016) PC sales dropped by an average 10 per cent in the United States despite Dell recovering lost ground.
Both IDC and Gartner disagreed on the actual quantum of the fall, but were agreed on the fact that US consumers had no particular motivation to purchase new PCs in recent times (Read the full story published on PCWorld).
Maybe, Microsoft believe the right time to re-enter this segment coincides with the decline in sales of Apple's iPad and MacBook (Read the Full Story). While Tim Cook is looking eastwards to countries like India for bolstering sales, Satya Nadella might just be creating that unique selling proposition in the US to lure buyers back on to the personal computer.
While Windows Central does not provide details on the likely specs of the AIO that is in the works, the report does mention that the device looks to be part of a "modern and elegant" addition to a stylish living room – something similar to a premium appliance that users purchase to jazz things up.
So, when will the new AIO see the light of the day? Windows Central prefers to remain mum on the dates suggesting that such launches cannot happen in a pre-defined fashion. It goes on to say that the development itself is partially dependent on Intel's new Kaby Lake 14 nanometer processor.
However, a report published in Digitimes (read it here) claims that the product could be available in the third quarter of the year. So, keep your eyes peeled from now on as the Surface AIO might just be the machine that you want in order to give that stylish edge to your living room.
TAGS: Microsoft, Hardware, Microsoft Surface Book, Surface Pro, Windows 10, Satya Nadella, Apple