Microsoft Skype Meeting: Group Video-chat Tool For Small Businesses | TechTree.com
Microsoft Skype Meeting: Group Video-chat Tool For Small Businesses
Microsoft is using this new tool to entice users to Office 365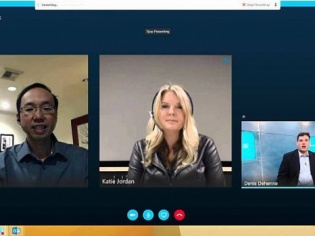 Small business can now make active use of Skype video calls as Microsoft announced 'Skype Meetings' on Tuesday, a free browser-based version of Skype aimed specifically aimed to ease the video call needs of small businesses. Post the beta release of Skype for Web last year, this will be the company's first Web-based product.
Skype Meeting will allow users to video chat with as many as 10 people at the time; this feature will be available for the first 60 days. Post this, the total number of video call recipients will be reduced to three.
The Web version also offers some of the more advanced tools with Skype for Business like screen sharing as well as PowerPoint integration. Moreover, the organizer can also use a virtual "laser pointer" or mute all other microphones to make sure they're being heard.
All these features are available on Skype Business, but that app requires a paid subscription to enjoy all these features. With Skype Meetings, however, all one needs is a URL to join the chat. The calls are powered by the same technology as Skype for Business calls. It means that users can take advantage of Skype's head tracking feature, for example, which ensures that a face will always be in the centre of the screen, no matter where it is in the actual video image.
Both Skype Meeting and the free version of Skype are similar in many ways as the services enable users to enjoy seamless video chat facility with the same number of people along with offering access to messages. However, by offering Skype Meeting, Microsoft is trying to portray its service as custom-made for small companies. Through this, the company is trying to rope in their patronage so as to make them upgrade to the fully-featured version of Skype for Business or even Office 365 business plan, which includes Skype for Business.
Microsoft is using these new tool to entice users to Office 365 and is trying all possible means to advertise its Office 365 business plan on Skype Meetings webpage.
Microsoft is likely to further develop the universal Skype app that will work in sync on all platforms – be it desktop, tablet or mobile. With this new product, Microsoft is also clearly trying to compete with Hangouts, which Google has deeply built into its suite of office tools – one that allows third-party services to integrate new features, too.
On its blog, Microsoft mentioned that it expects to deliver an experience to its users that is 'even better' through the new Skype app.

TAGS: Microsoft, Skype, Office 365, Skype Meetings, Skype for Business