Face Swap Live Is Now Available On Android | TechTree.com
Face Swap Live Is Now Available On Android
Android App lets users switch faces in Live Video, put their face in photos among other features.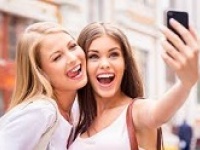 Face Swap Live, the popular iOS app with over 10+ Million downloads is now available on android through the Google Play Store.This is the app that started the whole face swapping trend of 2016 and now it's available to all android users running KitKat (4.4) and above.
The app has been a major hit with celebrities and users alike with everyone from Kathy Lee and Hoda, to Kylie Jenner to World Leaders such as Canada's Prime Minister Justin Trudeau using it to create hilarious face swaps.
Along with the new Android version, Face Swap Live is also available on iTunes App Store.Developed by Laan Labs, the app lets users swap their faces in real-time on live video and then record videos and photos that they can then share. Users can also pick photos to put their face in or wear it like a mask. There is also a great internet search feature so users can search and face swap with their favorite celebrity like Justin Bieber or Beyoncé. Also included a number of advanced features to set which face features are swapped from eyes, nose and/or mouth and a detailed face vertices editor so users can swap faces with objects that don't have standard face features like pets, fruits or whatever users can think of.
"We are super excited to bring this app to android as it now opens Face Swap Live to a huge new audience to make crazy face swap photos and videos," says co-developer Will Perkins.
"Developing on android has been an exciting challenge for us because of the diversity of android phones on the market, but all the effort has been worth it," added co-developer Jason Laan. "We have to thank all the beta users that have helped us resolve the wide range of tech issues that arise from all the different devices and manufacturers out there."
Laan Labs is a boutique agency based out of Berlin and New York with a number of #1 iOS Apps including, Tap DJ and iVideoCamera. The agency has also developed solutions for NBCUniversal, Nike, Prada, Vimeo, TweetDeck among others.
TAGS: selfie, Face Swap, App Store, Google Play Store