WakingApp Enables Users To Create VR Content for Oculus Rift, HTC Vive | TechTree.com
WakingApp Enables Users To Create VR Content for Oculus Rift, HTC Vive
WakingApp's update allows non-developers to y create interactive VR content for Oculus Rift and HTC Vive headsets.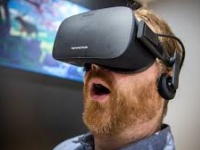 WakingApp has announced a new innovative release allowing users to publish their own VR content also to the Oculus Rift and HTC Vive headsets without any technical skills. Wakingapp provides a powerful cloud-based platform that enables users to create virtual and augmented reality content. The firm's ENTiTi VR content creation platform for PC and Mac is the first in the world to enable non-developers easily to create rich, highly interactive virtual reality content for leading devices. Prior to this latest launch, hundreds of virtual reality and augmented reality creations were published to the WakingApp iOS and Android app daily by non-developers around the world.
However now, user-generated content on the platform can be created at once, for those devices, as well as the Oculus Rift and HTC Vive devices, opening up a new market and positioning WakingApp as a trailblazer in virtual reality content creation.
"We are on the verge of the biggest evolution that mankind has experienced. The way humans interact with our environment will be completely different," said Alon Melchner, Founder and President of WakingApp. "We set a goal to enable future technologies like VR, AR and IoT so everyone will be able to take part in it not only as a viewer but also as a creator of content. Very soon the focus will shift from hardware to content. Gone are the days where an engineering degree was required to be a part of the virtual reality revolution. IoT is going to be the next technology enabled by WakingApp in the next updates and it will be combined with AR and VR as the interface for IoT."
"We are proud to be pioneers in VR/AR content creation and the first to create an easy way for anyone to create virtual reality environments and experiences for the Oculus Rift and HTC Vive too," said Udi Shani, CEO of WakingApp. "WakingApp is at the forefront of content creation as the leading market platform to allow non-developers - artists, advertisers, educators, small business and enterprises."
WakingApp enables anyone, regardless of prior programming experience, to create advanced interactive VR and AR content once and immediately make it viewable on leading Mobile VR glasses like Google Cardboard, Zeiss VR One, FreeFly VR and Samsung Gear VR and now also Oculus Rift, HTC Vive and upcoming new devices.
Read : ASUS Republic Of Gamers Announces Strix GeForce GTX 1070
TAGS: Oculus VR, HTC, virtual reality, iOS, Android