ListUp, An App To Buy And Sell Used Goods | TechTree.com
ListUp, An App To Buy And Sell Used Goods
The Mumbai-based ListUp App enables users in local buying and selling has raised INR 3 Crores from Kae Capital and FreeCharge founders.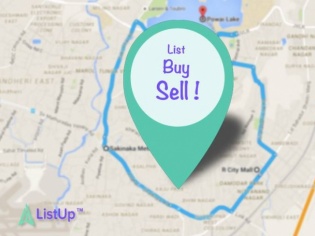 ListUp launched in January, was founded by Sumit Gupta, Pulkit Gupta and Saurabh Jain,to disrupt age-old classifieds in India. ListUp is focused on P2P exchange of second-hand goods, which aims to bridge buyers and sellers using technology.
The unique feature of the app is its location-based discovery of products and social approach to classifieds. Unlike existing classified platforms where there is no real seller identity, all ListUp users are socially verified that leverages social connections to solve the problem of trust in the transaction. With 100 per cent MoM verified user growth and with an average active user spending around 15 minutes per day on the app and active sellers spending 30 minutes daily, ListUp claims to create a product that people can use to discover and sell things within their neighborhood in the fastest possible way.
Sumit Gupta, Co-founder and CEO, ListUp said, "This problem particularly excites me a lot, it's a huge opportunity in India and there's lot more innovation that can be done in the used-goods space using technology. With the increasing smartphone adoption and our unique approach to age-old classifieds, we're making buying and selling of used goods easier, safer and much faster," he says.
It is based on the idea of letting individuals buy and sell used items in an easy and efficient way through their smartphone. Centred around geographical proximity, ListUp enables people to discover interesting goods being sold in their neighborhood, thereby minimizing the time between contacting the seller via direct chat and meeting them in person.
Having a significant range of products, varying from guitars, speakers, mobiles and even drones, ListUp is synonymous to a second-hand shopping mall. In India, an average Indian hoards at least 20,000 worth of items they don't use anymore and can turn it into real cash. Since its launch in January, the number of listings on the app are increasing by 300 per cent MoM (month on month) and interesting products worth millions of dollars have already been listed on the app.
The app is available for downloads on App Store and Play Store.
TAGS: Mobile App, Startup, Tech Startup, App Store, Play Store