i.am+ Exclusively Debuts "EPs" At Apple Stores | TechTree.com
i.am+ Exclusively Debuts "EPs" At Apple Stores
Bluetooth Earphones (EPs) by will.i.am is being marketed as the elevated audio essential for the connected lifestyle.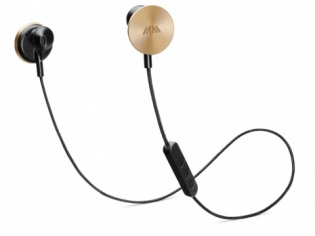 i.am+, the technology company founded by global music artist and entrepreneur will.i.am, has announced that i.am+ EPs, the company's premium Bluetooth earphones, are now on sale at select Apple Stores, and at apple.com. The design conscious EPs fill a gap in the Bluetooth market saturated with sports solutions.
Inspired by the iconic shape of vinyl records, the EPs signature circular design is crafted from spun metal and paired with a woven fabric cord, because style matters and tech doesn't have to look like tech. With a lightweight, no-fuss form, the EPs are crafted to be worn all day long, arming the wearer to take on the connected world. Available in black and gold color variants, when not in use, the EPs magnetically click into place around the neck, keeping them at the ready to answer calls or pick back up on the soundtrack to the city.
Mirroring their elevated style, the EPs provide the consumer with optimized sound and clarity in their daily life. With a 30-foot Bluetooth range and built-in remote and microphone, the EPs deliver superior sound, deep bass, and continuous access to music and content.
Compatible with iPhone, iPad, Apple Watch, and other devices, i.am+ EPs available retail for a price of $229.95.
TAGS: Apple, App Store, Apple Store, Earphones, Bluetooth-enabled devices