Yahoo Announces Big Updates For Yahoo Mail Apps | TechTree.com
Yahoo Announces Big Updates For Yahoo Mail Apps
Enhanced Links, Supercharged Contacts, Open Beta and More!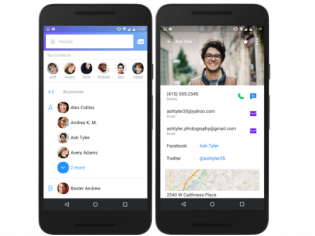 Yahoo has recently announced new features to Yahoo Mail for iOS and Android users in India, which allow users for easier sharing, and sync contacts with your device without much difficulty. Also, the company has introduced a complete directory of all of the people users interact with along with a lot of other astounding features!
On iOS, Yahoo has brought some of those interesting features found on desktop on to mobile.
Link Preview: The next time you want to send an article or webpage, this feature converts that blue link into a visual, informative card that gives recipients a snapshot of what you're sending right in their email. You can even choose whether to send the enhanced preview card in the middle of your email or below, at the bottom of your note. Plus, if you receive the enhanced link, you can easily share it on Facebook, Twitter and more.
Stationery: This popular feature in web mail on desktop is now available in the Mail app. If you do not know what it does, you can personalize your emails by simply tapping on the compose assist button and compose mails using themes or templates.
Share Button: Now you can share content directly via Yahoo Mail. Just click the share button and choose the Yahoo Mail app icon. Whether you want to send pictures and videos from the Photos app, a link from a web browser or text from your notes, you'll have an email started with whatever you're sharing included. The new features, as well as the ability to rename accounts and mailboxes, are available now in the Yahoo Mail app for iOS (4.4) around the world.
At the same time, for Android, there seem to be different set of updates that the company has rolled out.
Complete Directory: This allows you to find all of the people you interact with. Go to the "People" smart view and click "see all contacts". This will take you to a list of all of the people you've communicated with, which you can browse and edit. And of course, you can still also find someone you've emailed through search and view their details by tapping their picture (or initials) in your inbox.
Contact Sync: The app will now sync your Yahoo Address Book contacts and your device's contacts. Turn it on in your Android device's sync settings.
Having said that, the Yahoo Android app is available as an open beta and anyone can try out new and experimental features and help the company make the app better and faster.
Along with this, the update also includes new animations (try deleting or starring a message!) and a congratulatory message when you hit inbox zero. These features are rolling out to you now, just be sure to update your Yahoo Mail app on Android to the latest version (5.5).