LGBTQutie Launches Dating and Social Networking App | TechTree.com
LGBTQutie Launches Dating and Social Networking App
LGBTQ App will be available on Google Play and App Store, which shall replace the previous web-based interface.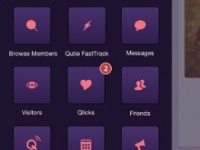 LGBTQutie has launched its free mobile app for iOS and Android, replacing the web-based interface that has been operating for two years. The LGBTQutie mobile app is available on Google Play and on the App Store. For a limited period of time, new users can upgrade to Rainbow Membership for a month free, that allows them access to additional new features. Rainbow members can view other members anonymously in ghost mode, see who viewed their profile, have access to advanced search features, see who Qlick'd (liked) them and much more.
"The new mobile app builds on the success of our website, while also adding some cool new features," says Rachel Kimelman, co-founder of LGBTQutie.com. "We are more than another dating app, we're a community. Our goal is to facilitate meaningful connections, whether that means romance or a strong friendship. Our app is multi-faceted allowing users to decide what works best for them. In addition to being an inclusive dating and social networking platform, the app also features LGBT relevant events, news and blogs. We believe the mobile app will take things to the next level."With the online dating market becoming increasingly mobile, Kimelman and co-founder Jordan Weiss decided to create a platform to meet the demands of the market and the community. The LGBTQutie mobile app enables like-minded individuals from across the spectrum to make real connections, wherever they happen to be. Kimelman and Weiss project that memberships will continue to grow even more due to its recent enhancements.
New users of LGBTQutie begin by creating a profile and have the option of filling out the Relationship Readiness Quiz and LGBTQuestionnaire. These tools are designed to gauge one's feelings about a variety of topics. This allows users to compare answers with one another as a guide for determining similarities in preferences and perspectives.The app showcases the ability to make full profiles and also features a swiping system called the Qutie FastTrack. Among the most exciting new features is the video "teaser" - members have the ability to send 10-second video messages to other users.
LGBTQutie.com will continue to function as a landing page for the app, as well as a host for Qutie Blog posts, which also appears on the app.
TAGS: Online Dating Apps, Google Play Store, Android Apps, iOS, App Store