Satya Nadella To Deliver A Keynote At 'Microsoft's Future Unleashed' Mumbai | TechTree.com
Satya Nadella To Deliver A Keynote At 'Microsoft's Future Unleashed' Mumbai
The event focusses on building Microsoft's connections with industry leaders in India.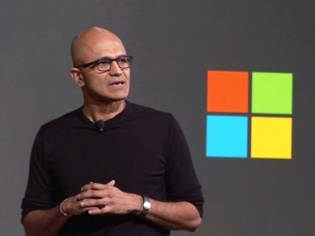 Microsoft CEO, Satya Nadella will arrive in Mumbai tomorrow to deliver a keynote at Microsoft's Future Unleashed event that takes place in Mumbai over the 5th and 6th of November.
The event will bring together about 3000 industry thought leaders and the Microsoft CEO will also meet key industry leaders like Anand Mahindra, Shikha Sharma, Mukund Rajan, Brand Custodian & Spokesperson, Tata Group.
The event seems primarily focussed on business where the CEO will also meet key government stakeholders and Microsoft's customers and partners on day one.
Day two is the technical day with EVP Scott Guthrie delivering a keynote about innovations in Cloud, followed by discussions on Mobility, Data & Analytics, IOT, Modern Web and more.
Day one will also see key industry leaders deliver talks at the event, which also includes a talk by Maharashtra Chief Minister Devender Fadnavis.
The CEO will also give out details about the Microsoft's future plans in India, which for now stands at setting up data centres in the country.